PLAN
Transform your baseline into a production plan
Construction execution requires planning on steroids. Map out what's really going to happen on your site and start tracking progress against it.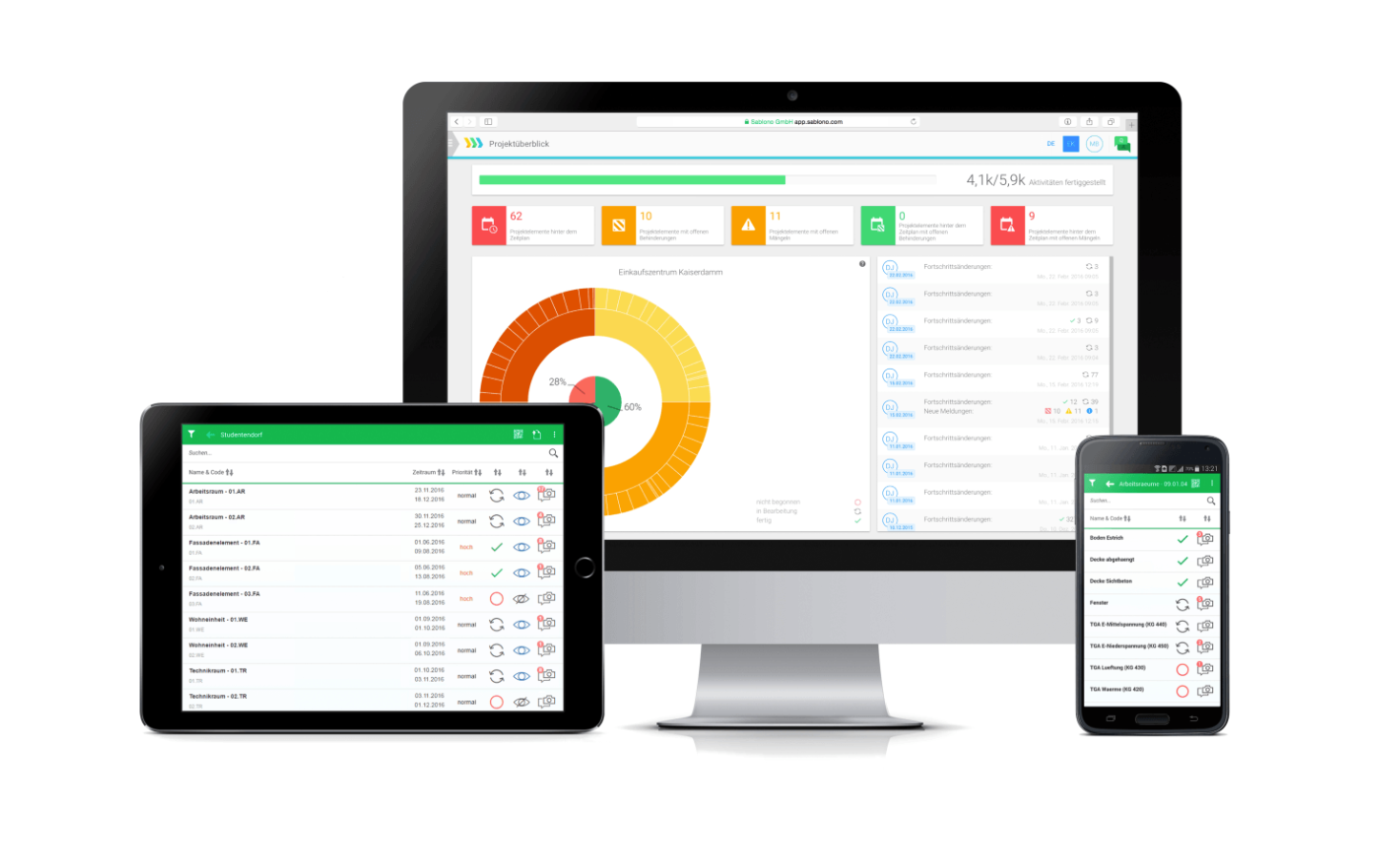 POWERFUL FEATURES
Redefining

execution

planning
Plan your construction process at an unprecedented level of detail and embed your full supply chain into one holistic digital workflow.
Leverage your existing baseline schedule
Integrate and import your current baseline schedule from various tools to start building out a detailed execution plan.
Quickly connect P6, MS Project, Asta or Excel
Seamlessly import current baseline dates
Reuse all deliverables and WBS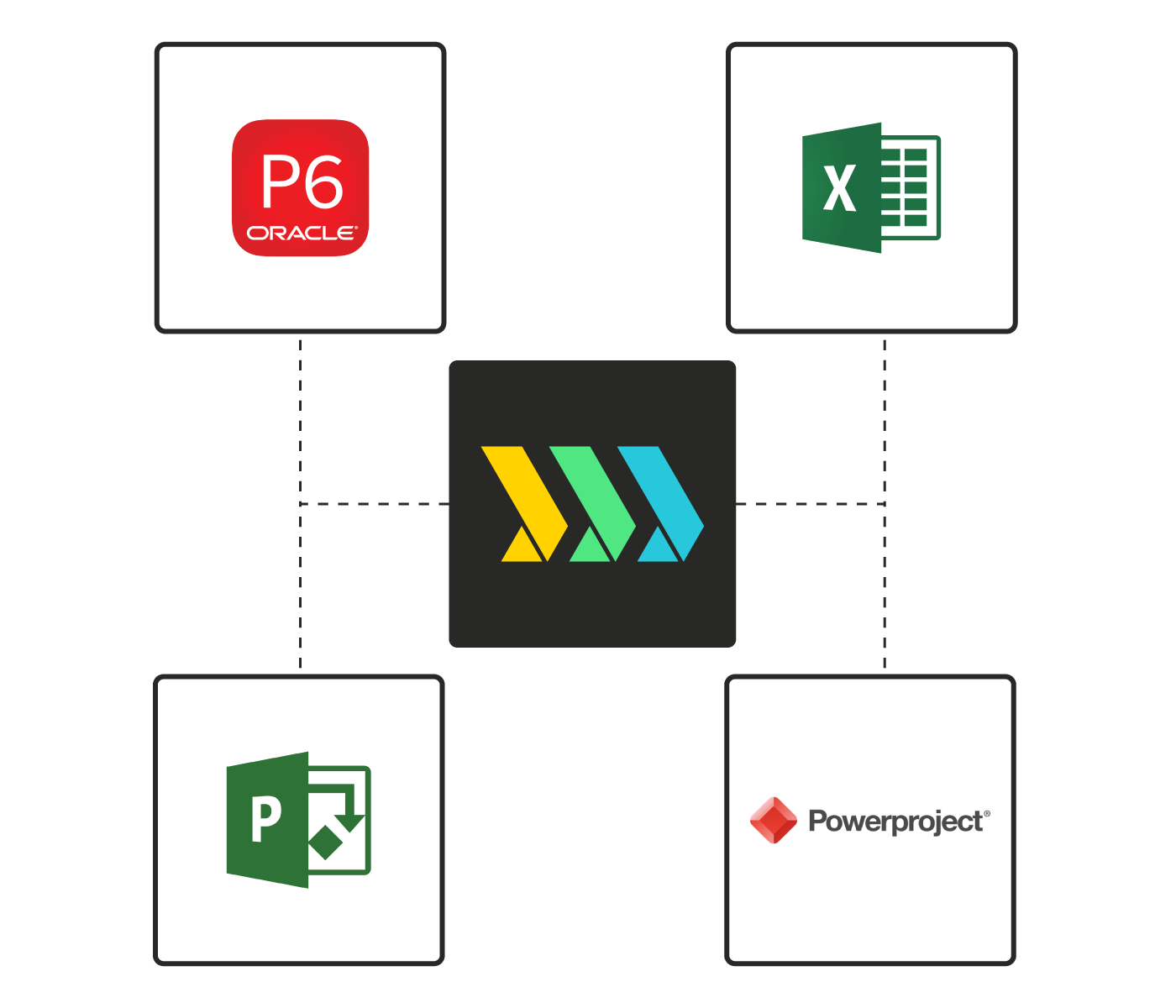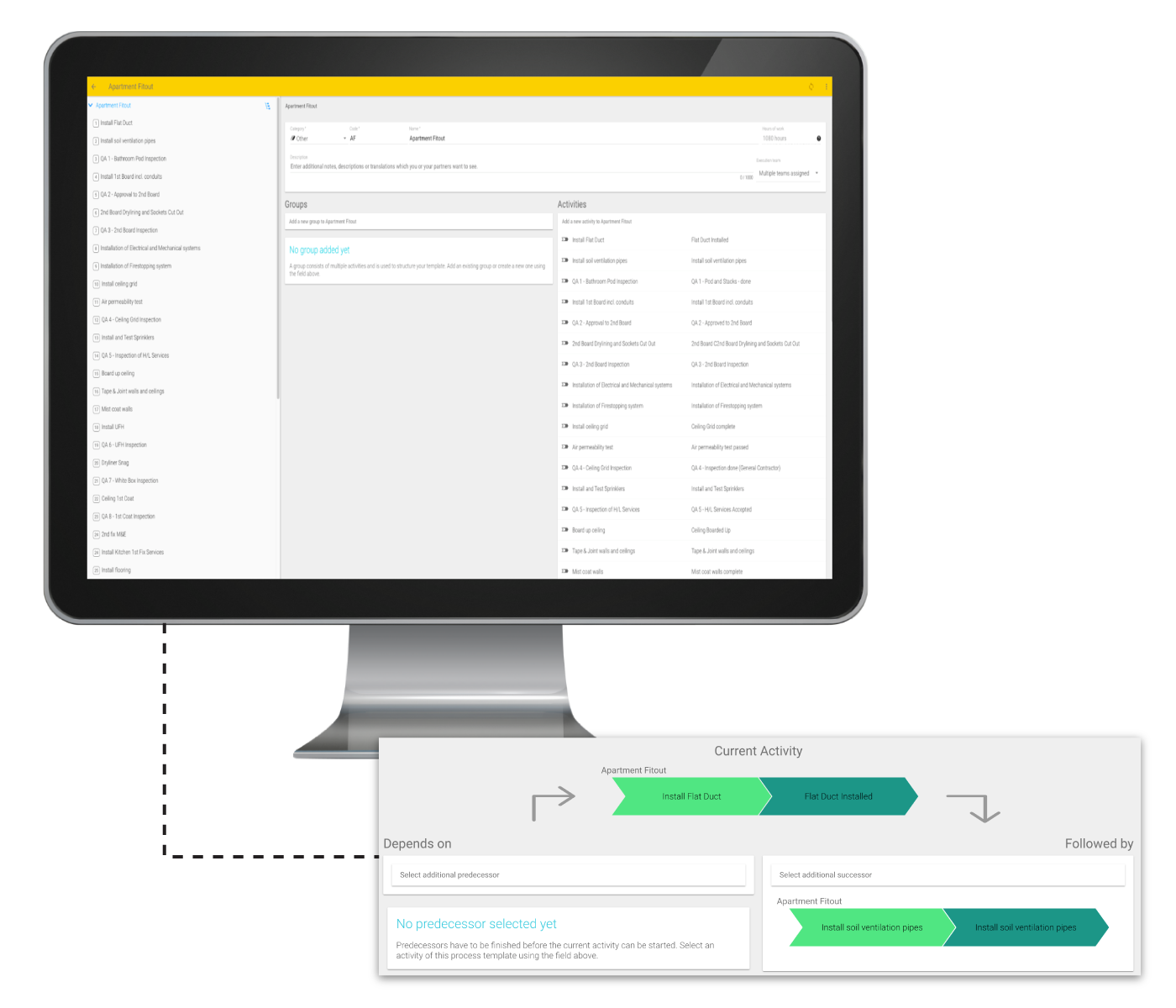 Setup building sequences
The easy-to-use process builder allows you to outline highly-granular sequences for all different types of work packages.
Visualise activities, responsibilities and sign-offs
Add hold points and QA checksheets (ITPs, WIR)
Capture processes in reusable templates
Invite your teams and assign work
Easily bring your internal teams and subcontractors onto the platform and quickly assign them activities. Make them part of your detailed execution process for seamless work coordination and mobile progress reporting.
Experience real cross-company collaboration
Assign roles, responsibilities and workflows
Pave the way for progress tracking in the field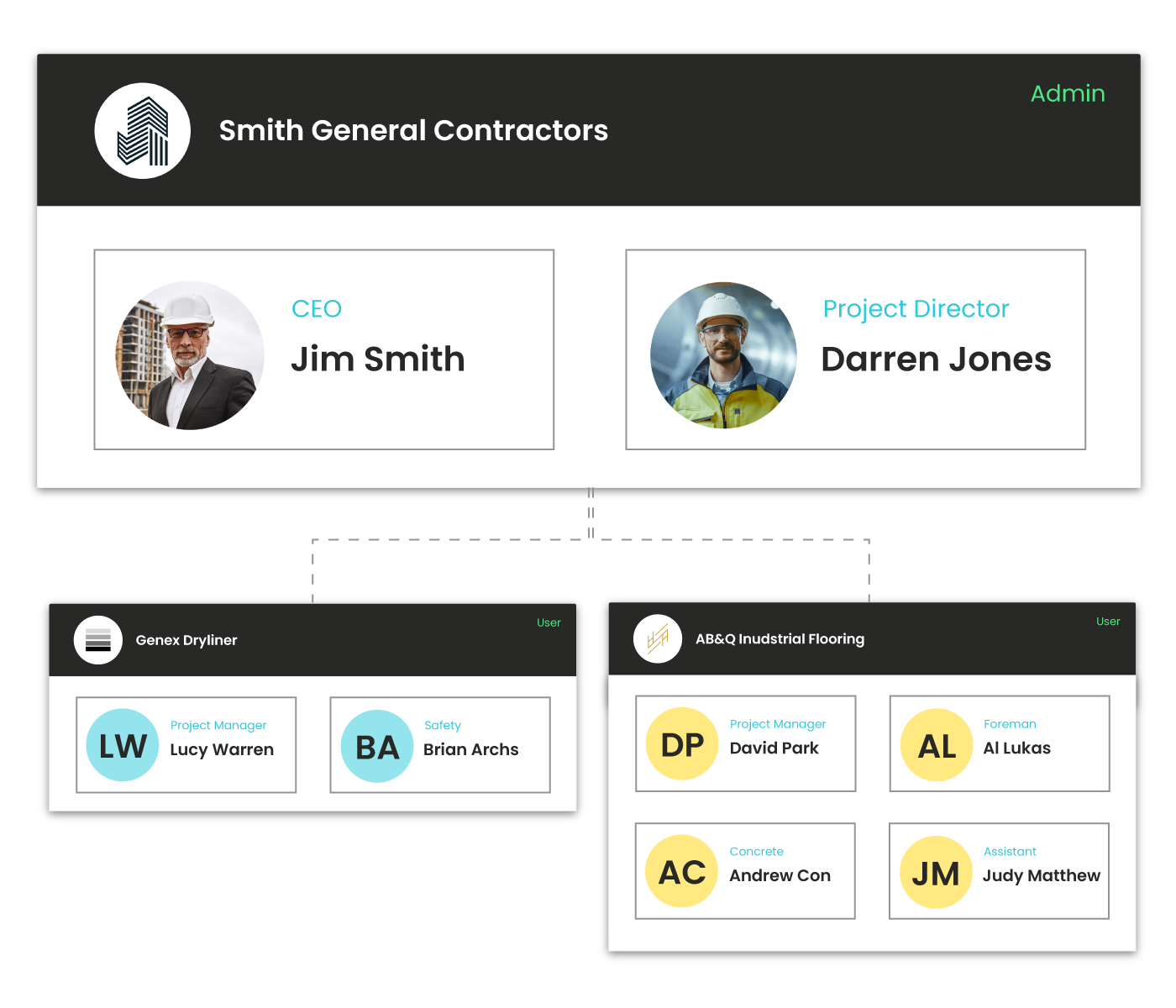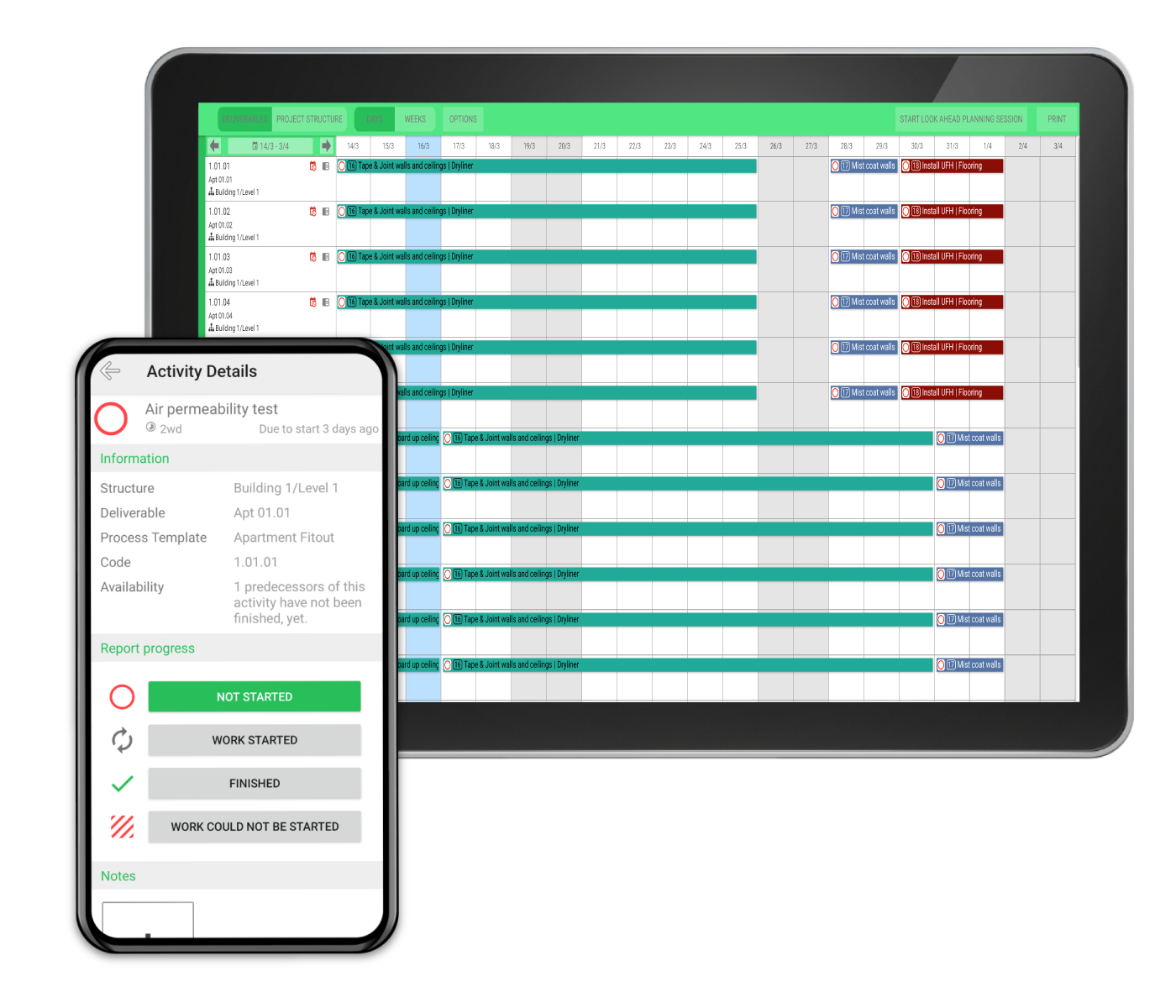 Take your production plan to the field
With the detailed production plan in place, all teams know exactly what to do and can start tracking progress and quality directly on their mobile phones or tablets.
Communicate the plan to all project partners
Significantly reduce coordination on site
Fully digitise your execution processes
See Plan in
action
The better way to do project planning.
FAQs
Project planning questions?
What is Sablono Plan?
Sablono Plan is the basis for the entire execution of your project. It allows you map out and plan all activities that the various different parties are going to work on. Plan allows you to reflect your building sequences for the different packages of the job and to transform those into a fully connected production model. This forms the basis for a detailed and collaborative tracking with Sablono Track.
Does Plan replace my P6 or other scheduling tools?
Plan reflects your actual production plan - so the level of detail it takes for you to run and monitor your site. Usually, this level of detail is not found in traditional scheduling tools and is rather to be found in trackers and spreadsheets.
How do I set up my construction execution plan?
Sablono makes it easy for you to set up your detailed production plan. You can reuse most of your existing data like baseline schedules, component lists or trackers. Our simple to use process editor will guide you through the set up and our experienced Customer Success team is happy to assist wherever needed.
Do I have to define activities one by one?
Sablono is all about templates. We make it easy for you to standardise and reuse your building sequences, fit-out strings or other types of processes across your project and your project portfolio. This allows you to set up highly detailed production plans containing thousands of activities in a short amount of time. Check out "Analyse" to see how this also helps you analyse and improve your processes over time.
What type of processes can I plan?
You are free to set up activities, sequences and processes as you need them. This can range from preconstruction or construction activities to manufacturing to installation or quality assurance. Always keep in mind that you are building these processes to track progress against them. Our Customer Success team is happy to assist you if you need help or further inspiration.
How do I embed my subcontractors and supply chain?
In order for you to collaborate with your project partners, we made it easy for you to embed them into your detailed construction execution sequence. While setting up the plan, you can create various different teams and assign them to specific activities in the process. You can then invite individual users to the teams and define additional roles and responsibilities within the team.
Will my subcontractors have to pay for the solution?
You can invite your subcontractors and other supply chain members to join the Sablono Platform in order to embed them into your execution process. This is usually free of charge as your project or enterprise subscription already covers those accounts.