ANALYSE
Invaluable site analytics and insights at your fingertips
It's time for one holistic online platform to centralise all your progress information and to visualise and analyse invaluable real-time production data.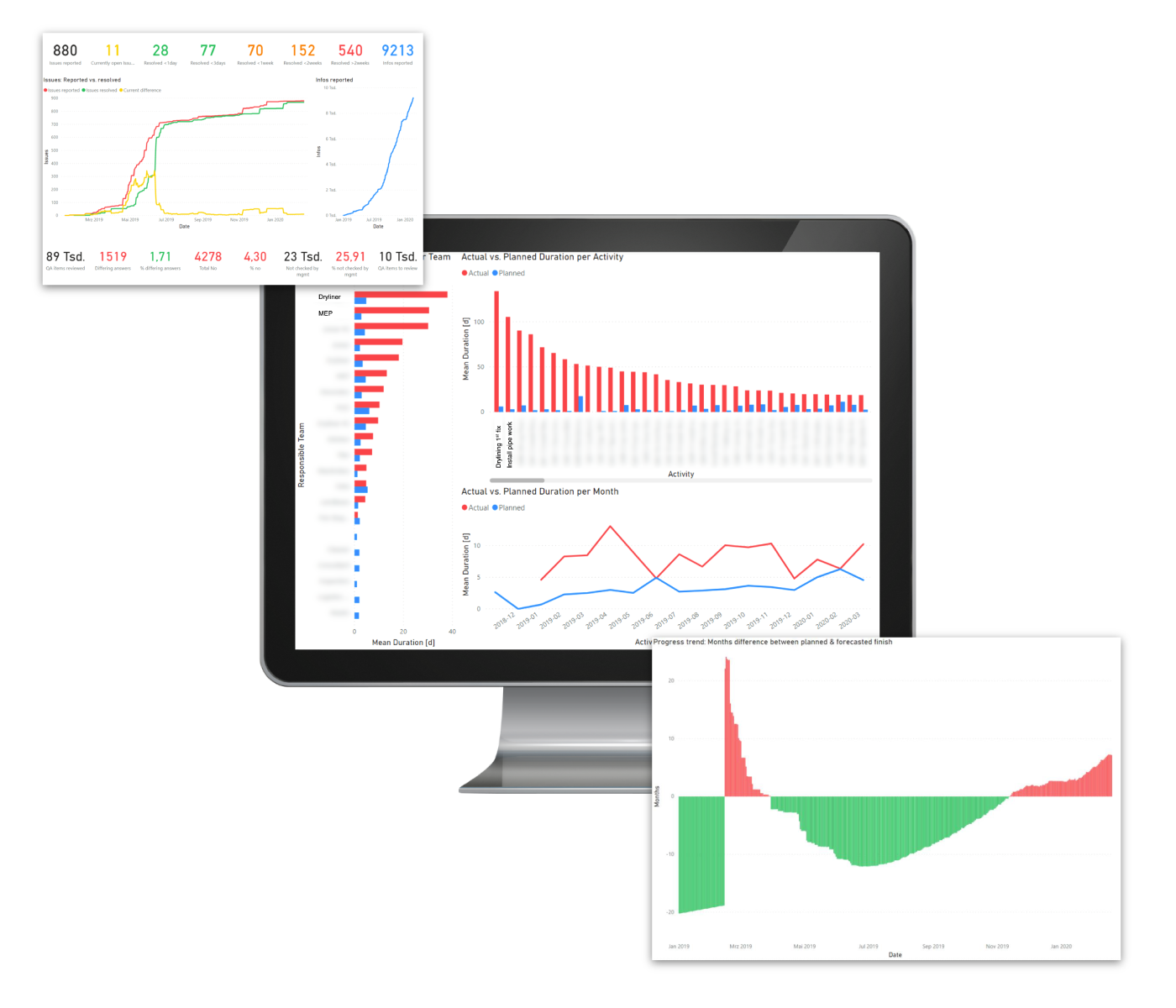 POWERFUL FEATURES
Unprecedented data analytics
For the first time ever, get instant access to invaluable production data across your full construction execution process.
Track infinite activities with industry-leading visual trackers
You are used to tracking progress of works for all sorts of packages in various different spreadsheets and trackers. Now it's time for one holistic online platform to centralise all your trackers and for you and your teams to benefit from invaluable real-time status visualisations.
Intuitive status visuals for all packages - fitout, facade, pods & more
Fully customisable based on floorplans, elevations or component lists
Available for Smart-TVs in your site offices and tablets on the go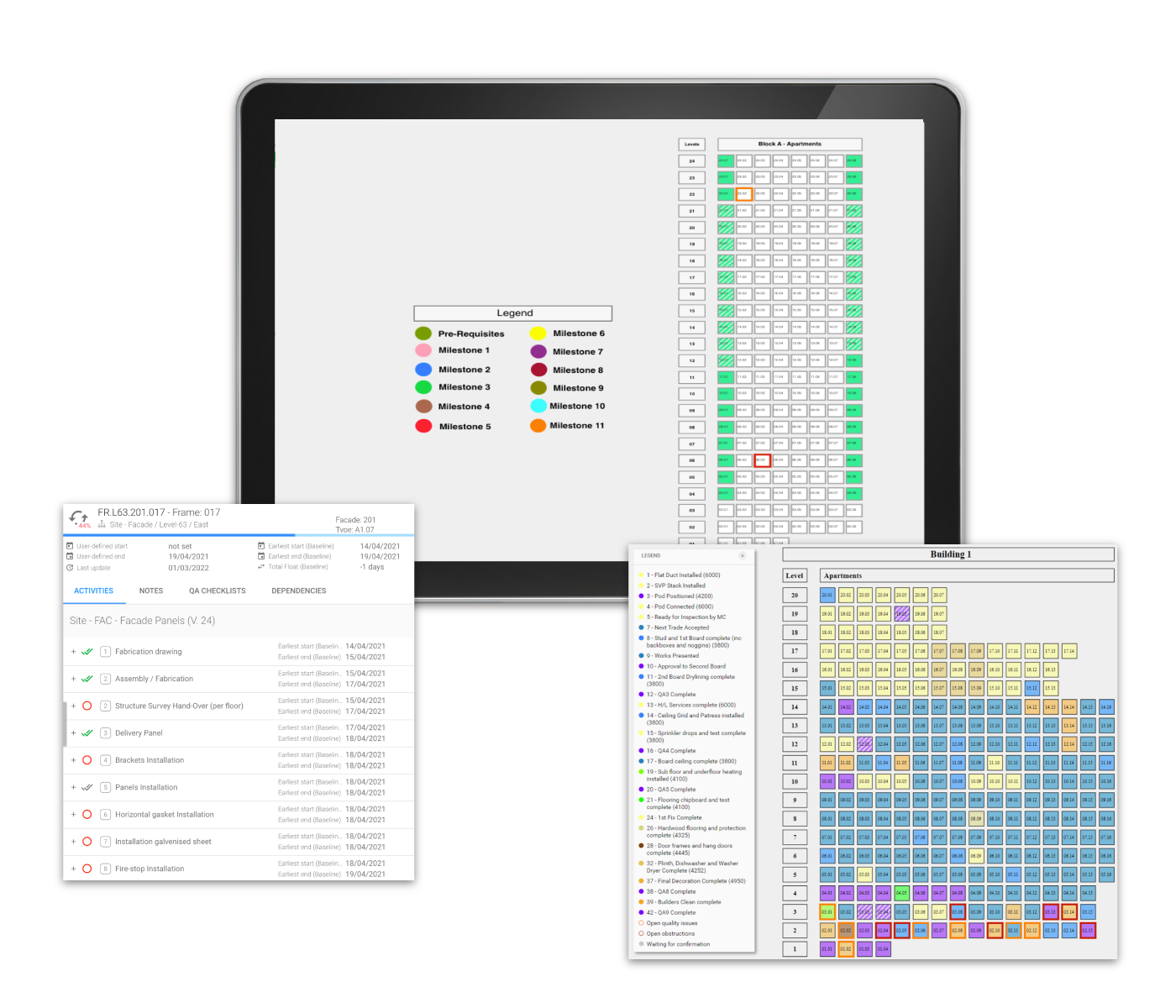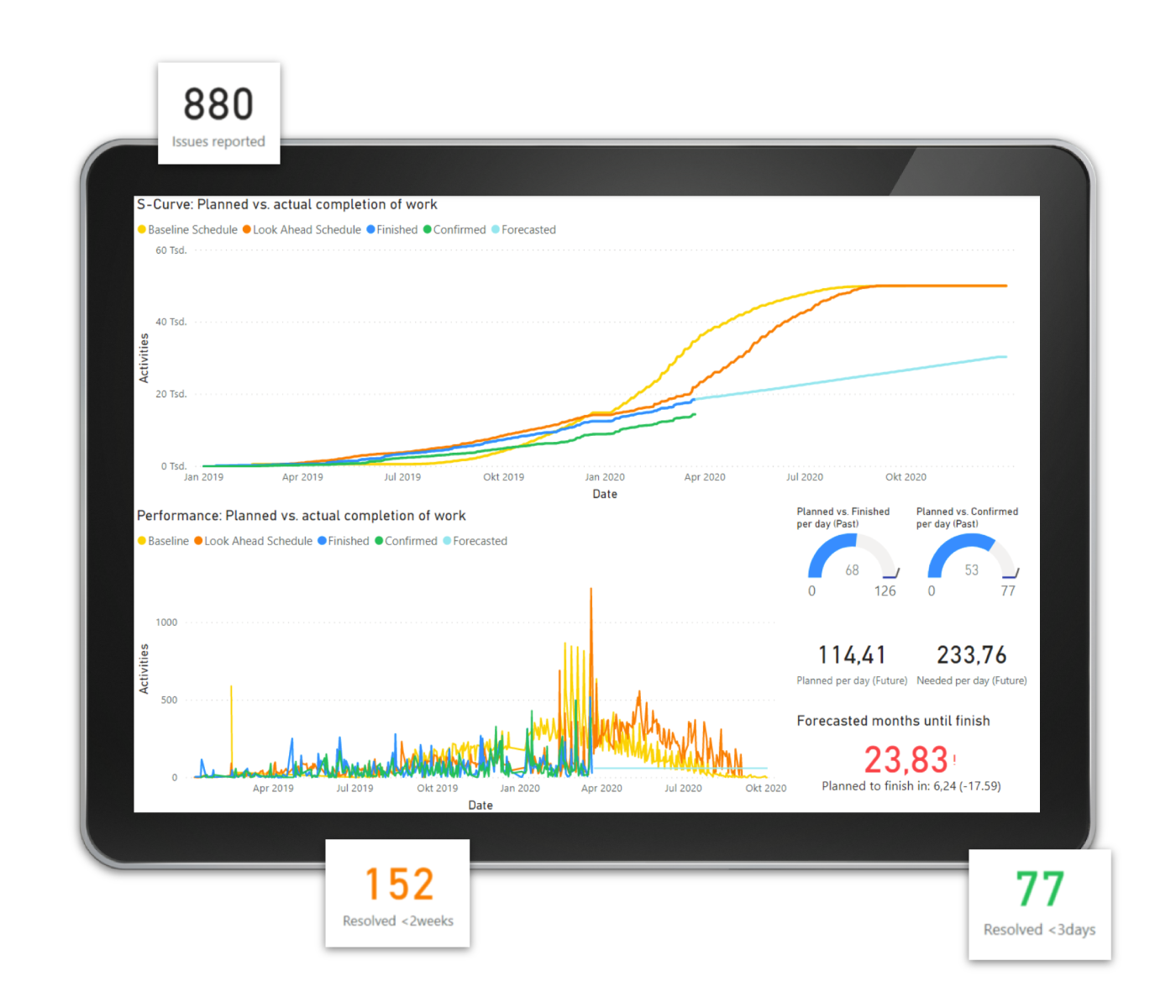 Holistic performance analytics and KPIs
Track performance against the plan and deep dive into your production data to optimise the jobsite. Detect what's falling behind and make use of intuitive charts and KPIs to understand delays and their implications.
Automated S-Curves and Planned-vs-Actual analysis
Understand the root cause of problems and patterns in your process
Instantly detect performance gaps and take action before it's too late
Integrated Quality Control and Assurance
Thanks to the unique combination of progress and quality on one central platform, you are able to analyse the implications of defects and hold-ups in your process instantly.
Analyse sign-offs, ITPs, defects and hold-ups
Gain insights into root causes for recurring quality problems
Analyse lead times for resolving defects and sign-offs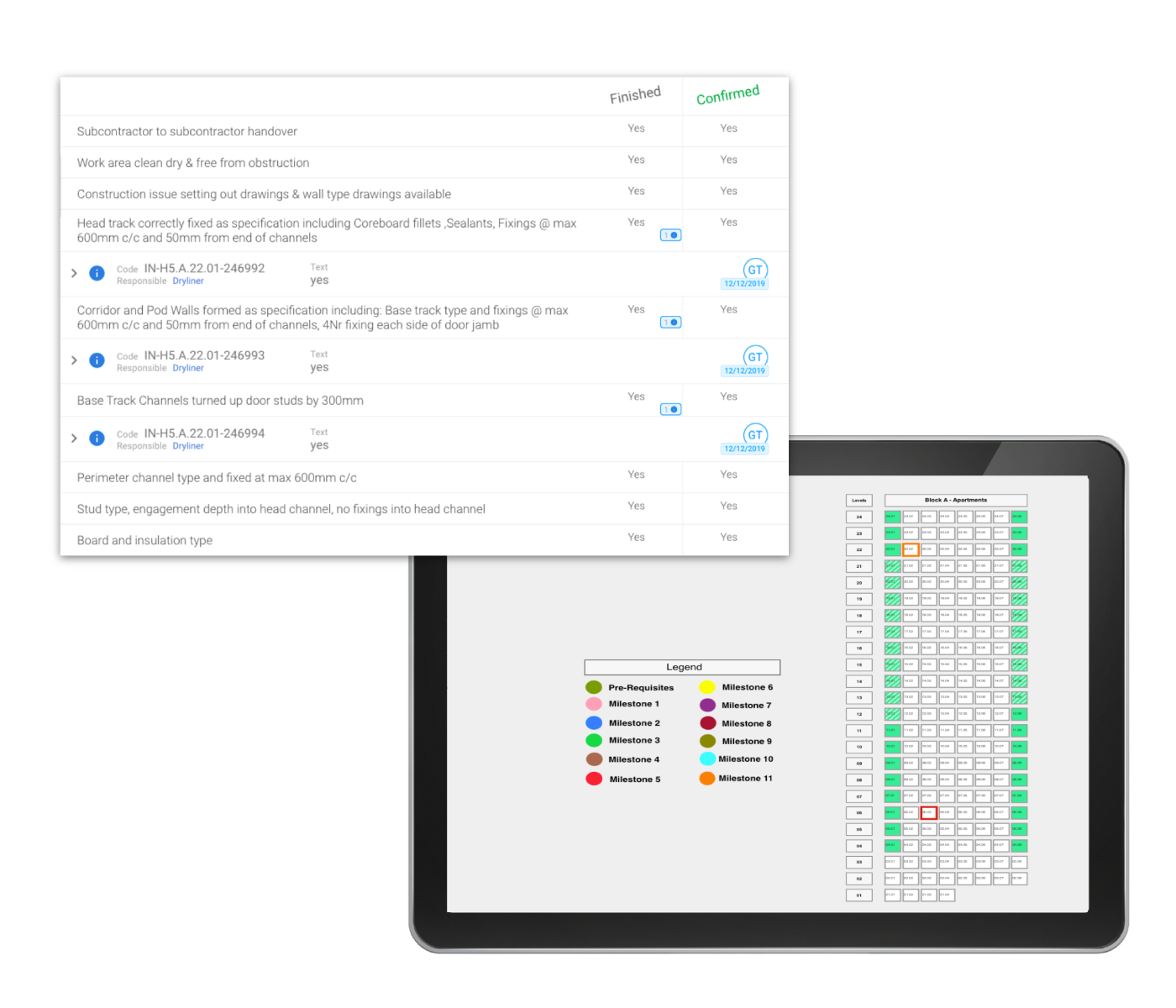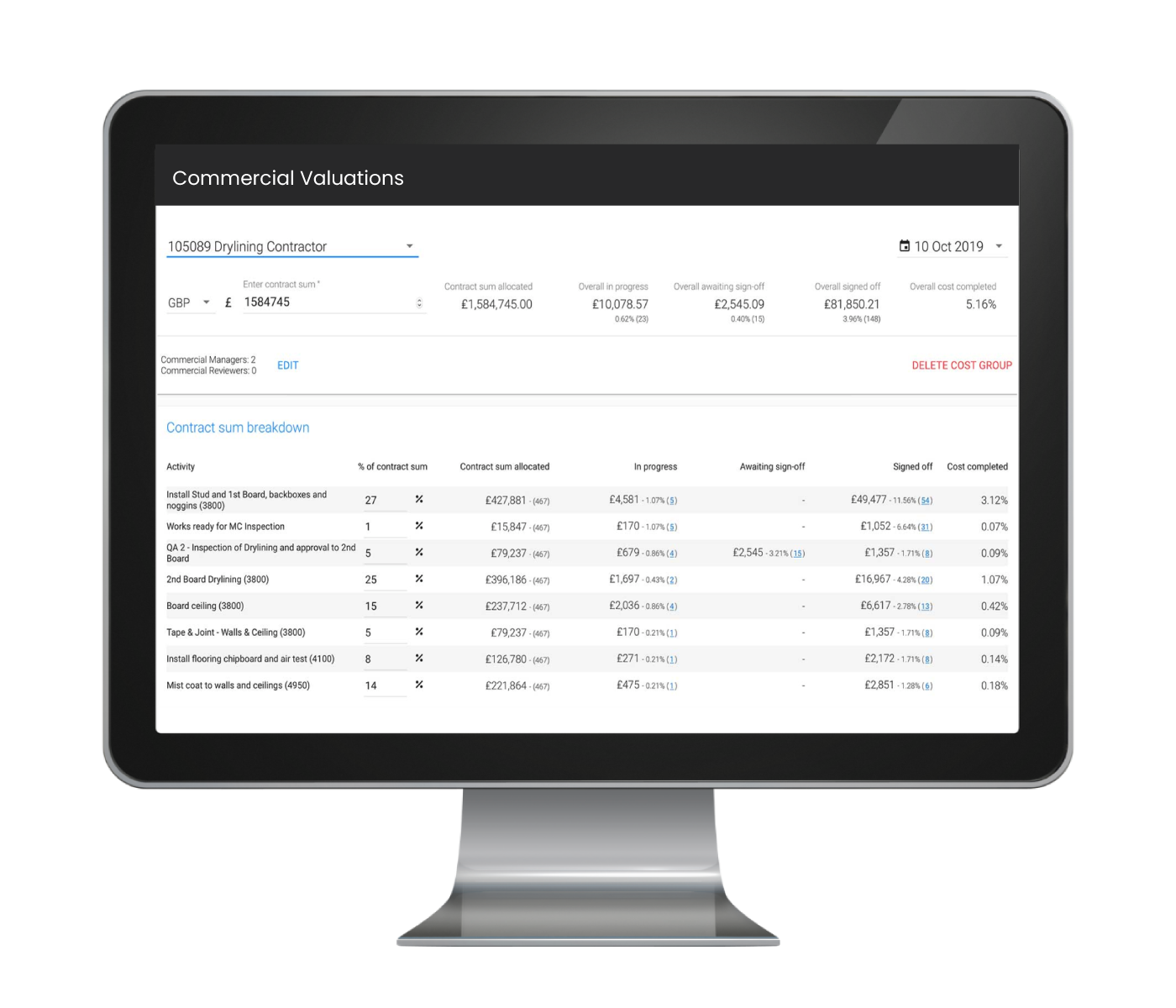 Automated Commercial Valuations
Cost-load work packages and activities on the platform to automate commercial valuations and payment application processes for individual packages, contractors or any other relevant part of the job.
Exactly understand what work has been delivered and signed-off
Monitor budget consumption and simplify your commercial processes
Go back in time to verify payment applications of contractors
See Analyse in
action
Coordinated, data-driven contractors and subcontractors on site are now a reality
FAQs
Project analysis questions?
What is Sablono Analyse?
Sablono Analyse is your central place to comprehensively analyse the highly-granular production data that has been captured throughout your construction execution by the various different teams and contractors. Easy-to-understand visual trackers that can be customised to your needs allow you to navigate through thousands of activities and status updates across your entire project in real-time for you to understand exactly where your project currently stands. Performance analytics including automated s-curves, planned vs. actual charts and many other KPIs are available at your fingertips for you to find the right information you need to take the project forward.
What exactly does Analyse replace?
Sablono centralises your cluttered project information which currently sits in trackers and various spreadsheets across all parts and packages of your job. Analyse is your central hub to access accurate production data at an unprecedented level of detail for a clear and error-free decision making.
What types of visual trackers can we set up?
Our Platform is highly customisable to reflect the visual representation you need for your project management. The visual trackers can be build based on floorplans, elevations, drawings, building models and any other comparable source of information which contain details on your project deliverables. Trackers can be set up for all kinds of deliverables and their underlying processes ranging from preconstruction or construction to manufacturing to installation or quality assurance.
Can I create visuals based on my building model?
Yes. As the Sablono Platform follows a component-based approach, you can also extract visuals from a building model (Revit, IFC and more) to build visual trackers. This is often being done for unitised facade systems or prefabricated pods to track and visualise progress throughout production and installation of the items. Our powerful visual trackers allow you to click into every single element and understand it's evolution and full audit trail of events.
How exactly can I connect valuations to the process?
Sablono allows you to build so-called "cost groups" which you can set up based on your predefined building sequences which you also use to tack progress against. You can flexibly cost load activities within your processes to track costs for certain packages, contractors or material suppliers. By giving access to this data to your commercial managers, you can dramatically reduce the effort for payment application and commercial valuation processes as the platform will reliably reflect the current status of works and sign-offs by your team.