ADAPT
Dynamically adapt your execution plan
Stay up to speed with the latest developments on your site and use reliable and highly-granular progress data to update your look-ahead plan for the upcoming days, weeks and months.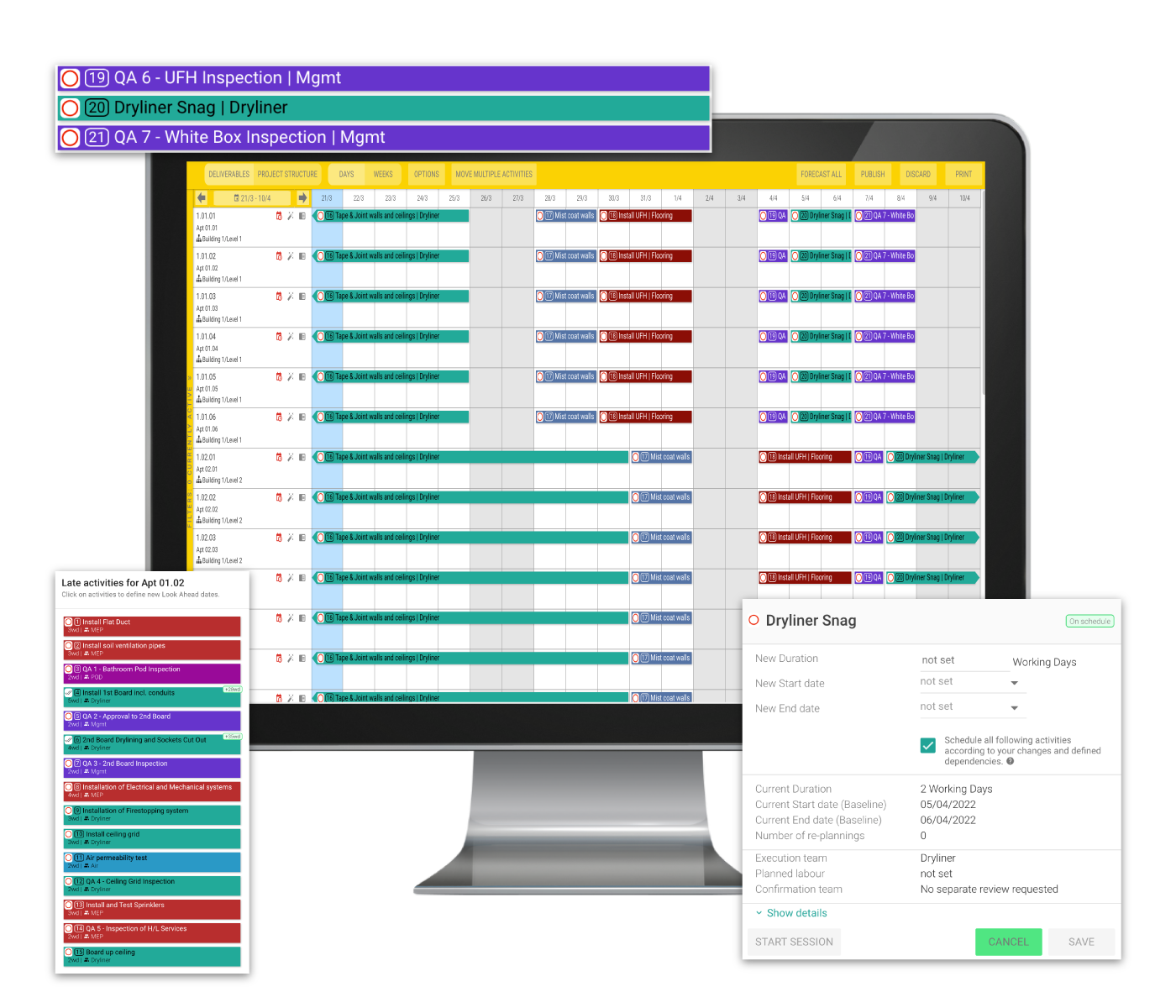 POWERFUL FEATURES
Informed decisions
No more guessing. Sablono makes it easy for you to adapt your look-ahead planning.
Look-ahead planning based on reliable data
Thanks to the detailed activity tracking against your production plan, you can update and adapt your look-ahead schedule based on reliable progress data. Make changes on the web and push them to everyone's mobile devices.
Drill down to the level of information you need
Take decisions based on accurate field data
Update the plan and share a new version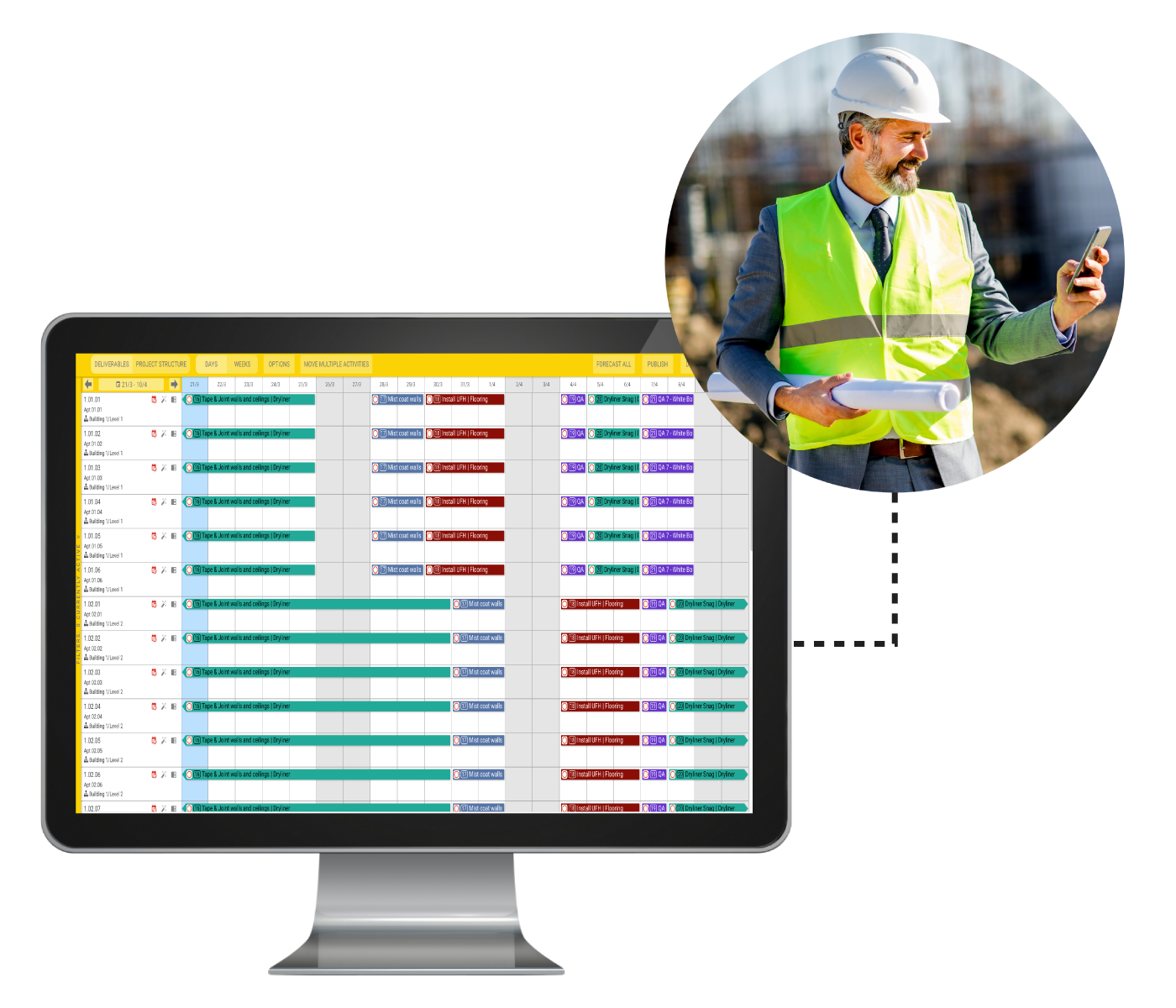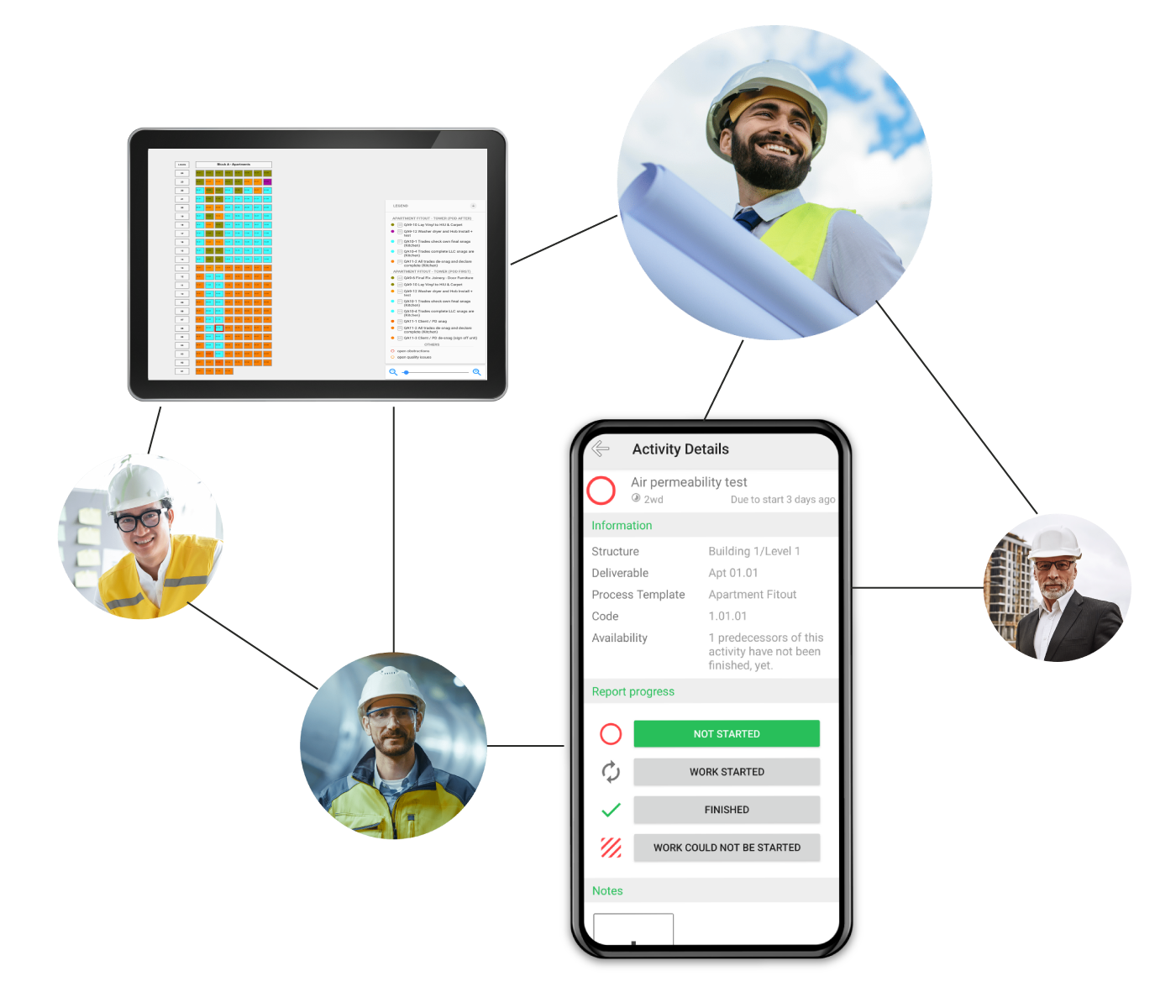 Coordinate your trades and teams
As part of your lean project execution, you want to streamline all the different teams and contractors in your process. Steer them into the right direction based on everyone's progress and availabilities.
Simplify your trade-to-trade handover processes
Coordinate the work according to the actual site progress
Proactively prevent hick-ups in the execution process
Simplify project communication
Keep everyone in the loop of what's happening on the site. Share new versions of the plan with your teams and continuously collect progress from all parties involved.
Keep all contractors aligned and updated on the plan
Push the latest planned dates to everyone's mobile devices
Use the platform live in your daily or weekly meetings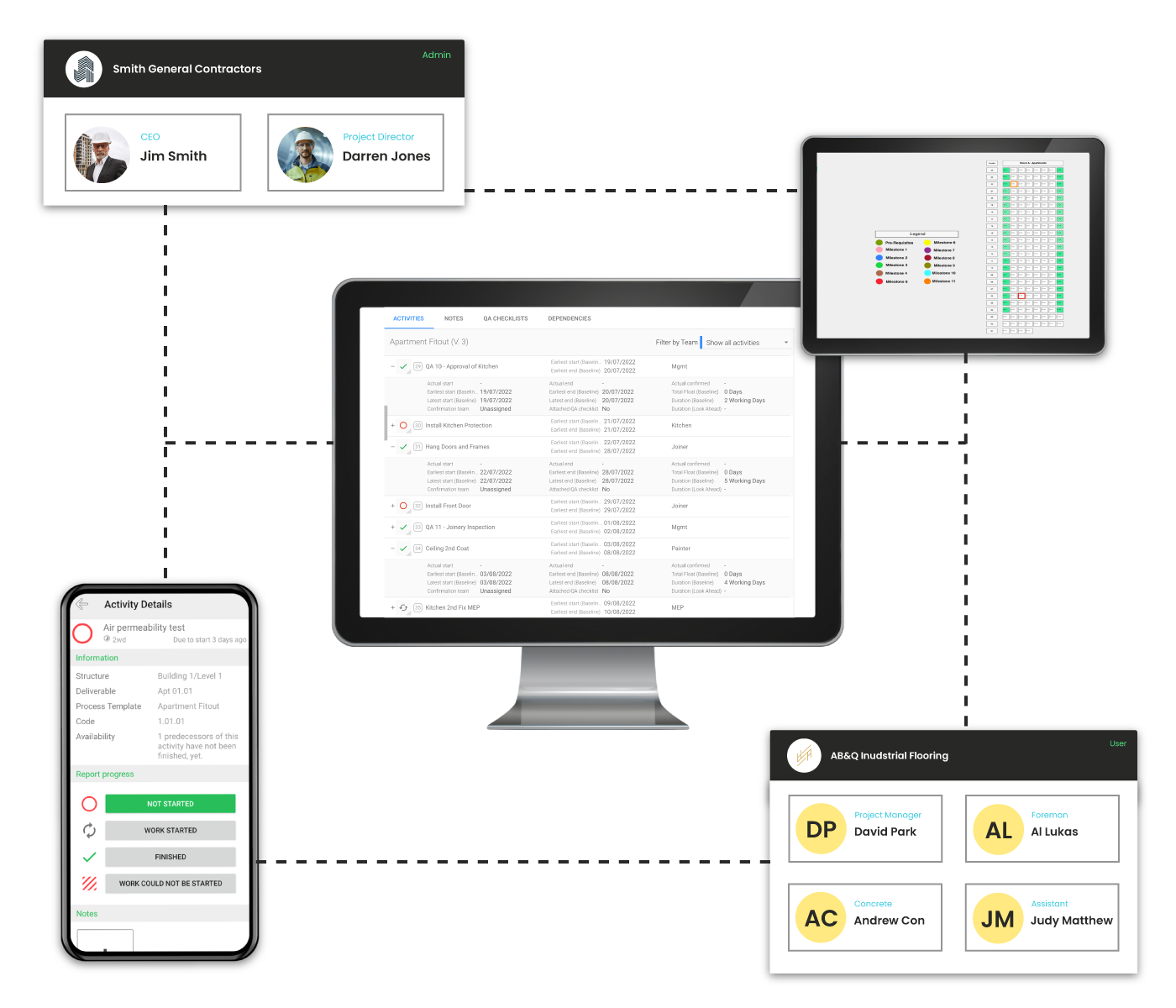 See Adapt in
action
Small statement or benefit checks
FAQs
Project adaptation questions?
What is Sablono Adapt?
Sablono Adapt allows you to comprehensively adapt your production plan during the execution of your project. You can use the intuitive lean planning functionalities to amend your short-range/look-ahead plan based on accurate progress data site data so you can take informed decisions for a proactive process management. You can easily distribute the latest version of the plan to all teams and subcontractors involved by simply pushing new dates directly to everyone's mobile devices. With Sablono you can ensure a seamless coordination and communication of all stakeholders on and off your site.
How des Sablono Adapt help me exactly?
Currently, you are managing your execution plan in one of the traditional programming tools like P6, Asta or MS Project in conjunction with various different Excel-based production trackers to centralise all information around the planned and the actual status of your project. The information you have at hand to update your look-ahead plan is often times outdated and inaccurate which makes it very hard for your to take informed decisions. Informing all stakeholders about the latest updates of the plan is also very challenging as this usually has to happen through a file-based export which you send around via email to keep everyone in the loop. Sablono Adapt was designed to fundamentally change these workflows for the better in order for you to be able to focus on what's really important - managing your site.
Can I use Sablono Adapt for coordination meetings?
Yes, the Sablono Platform was designed to simplify communication and coordination of all teams, contractors and suppliers in your process. You can use the intuitive look-ahead view in trade coordination meetings or update calls to discuss the current status of the site and to collaboratively adapt the plan going forward. You can try out different scenarios and use the magic forecasting functionalities to understand the implications of your changes before pushing the new plan to everyone's mobile devices for the ongoing progress reporting in the field.
Who can make changes to the look-ahead plan?
The whole Sablono Platform was built around real-life construction execution workflows and procedures. Hence, only certain people on your team can make changes to the production plan. This can be defined when setting up projects on Sablono.