Construction Software
4 Best Construction Project Management Software UK
In construction project management software comparison we'll explore the best construction project management software for 2023…
---
With so many construction project management software options on the market, it can be difficult to know where to start. This article reveals the 4 best project management software solutions for construction in 2023…
Here are some of the key features to look for in a construction project management tool:
Accounting and cost management. Basic budgeting capabilities will be present in any construction project management software. However, a more premium quality software will include forecasting and estimating features. These features will allow you to keep track of the financial plan for every project.


Information modelling. Projects in the construction industry are often complicated, requiring multiple stages of planning and the inclusion of hundreds of stakeholders. It can be quite cumbersome to make and keep track of all drawings and data models associated with the project.

The right construction reporting software will make your job easier by letting you share drawings and business details with your different teams. Document management features can also help to store all your reports in one place.


Access to real-time information. Keeping track of information can be challenging when you are devoting much of your time to hands-on activities. Construction project management software can ease your worries by giving you real-time updates about data, plans, and progress in construction activity.


Centralised system. A centralised system makes it easy to monitor work plans and access information whenever you need it.


Intuitive. Construction work will no doubt keep everyone busy. This means that they need to be able to find the information that they need to do their jobs efficiently. For this, you need to find project management software which makes it easy for your field teams to provide updates and input information. Mobile access, then, is a key feature of good software.


Scalable. The right software will let you scale your construction business by converting data into real-time information and helping you in making informed and strategic decisions.
Note: Sablono was built to fulfil the six factors above and so much more. You can read about it in detail below or schedule a demo if you want to see exactly how it could help your projects.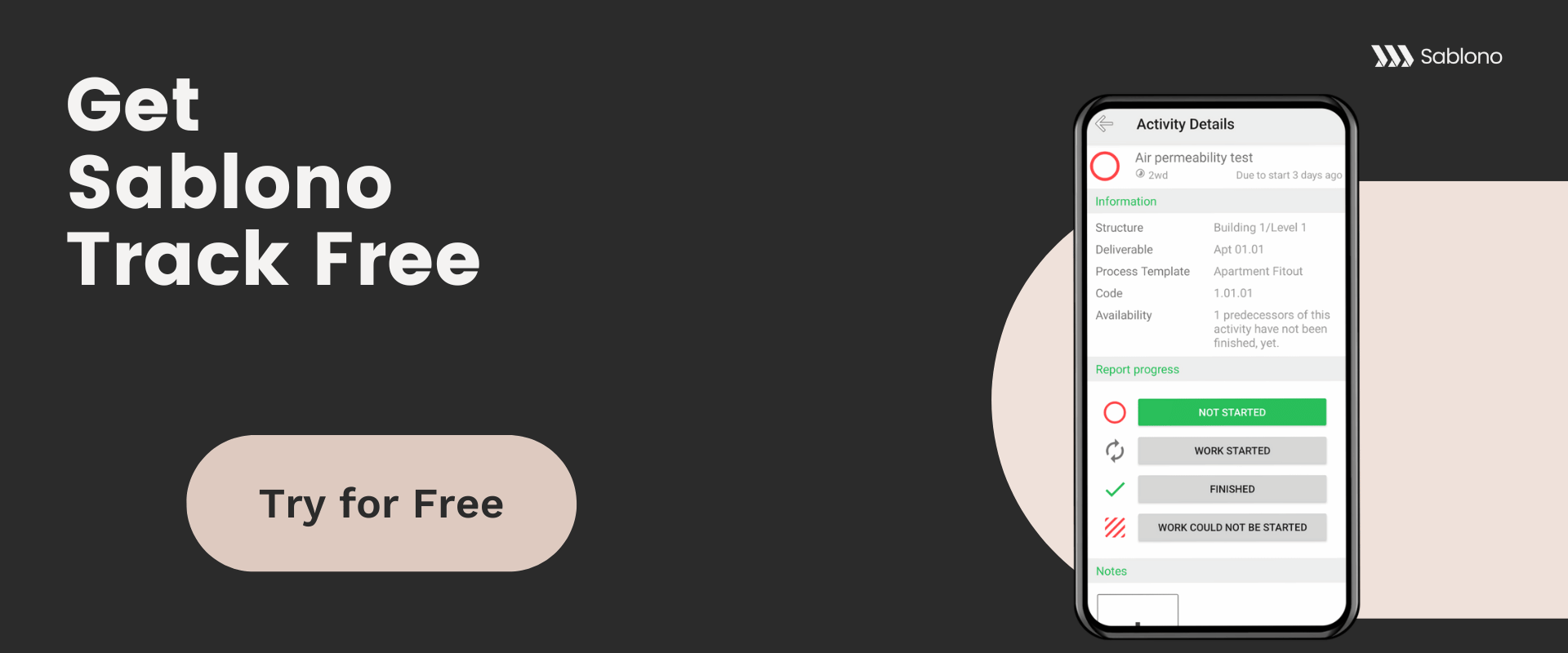 To help you to find the right software for your projects, we've compiled a comprehensive list of the top-ranked project management software available in the market today.
In this blog post, we'll dive into the features that make them 'the best', as well as things to watch out for if you do decide to purchase. By the end of this article, you should feel confident in knowing which construction project management software solution is best for your business.
1. Sablono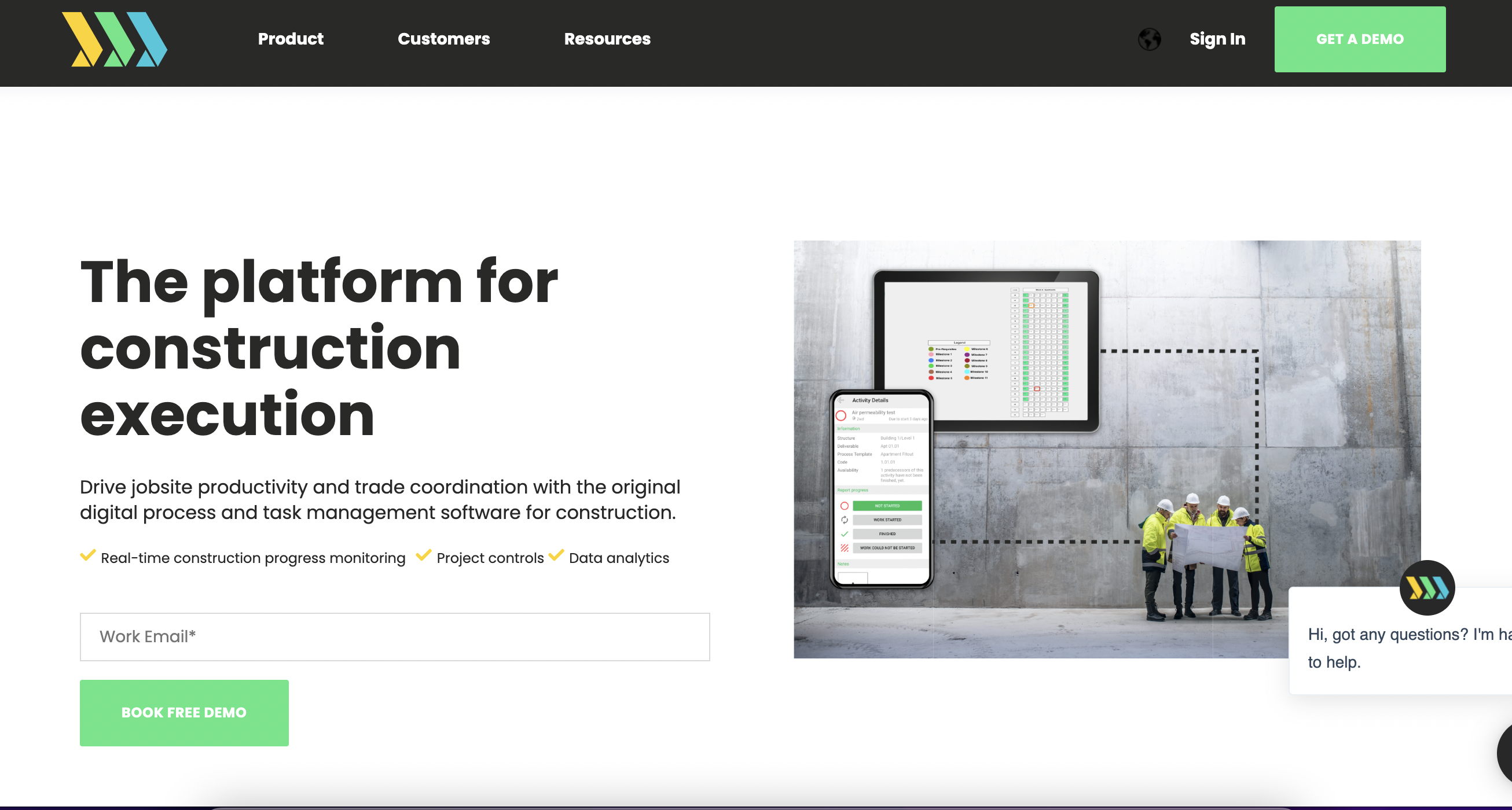 Sablono is one of the best platforms in the international market for large-scale construction projects. It is the only platform which provides you with an integrated solution for managing cost, quality, and time on projects. If you are working on a highly complex project, Sablono can simplify time-consuming activities while letting you experience real-time project controls.
Next-level collaboration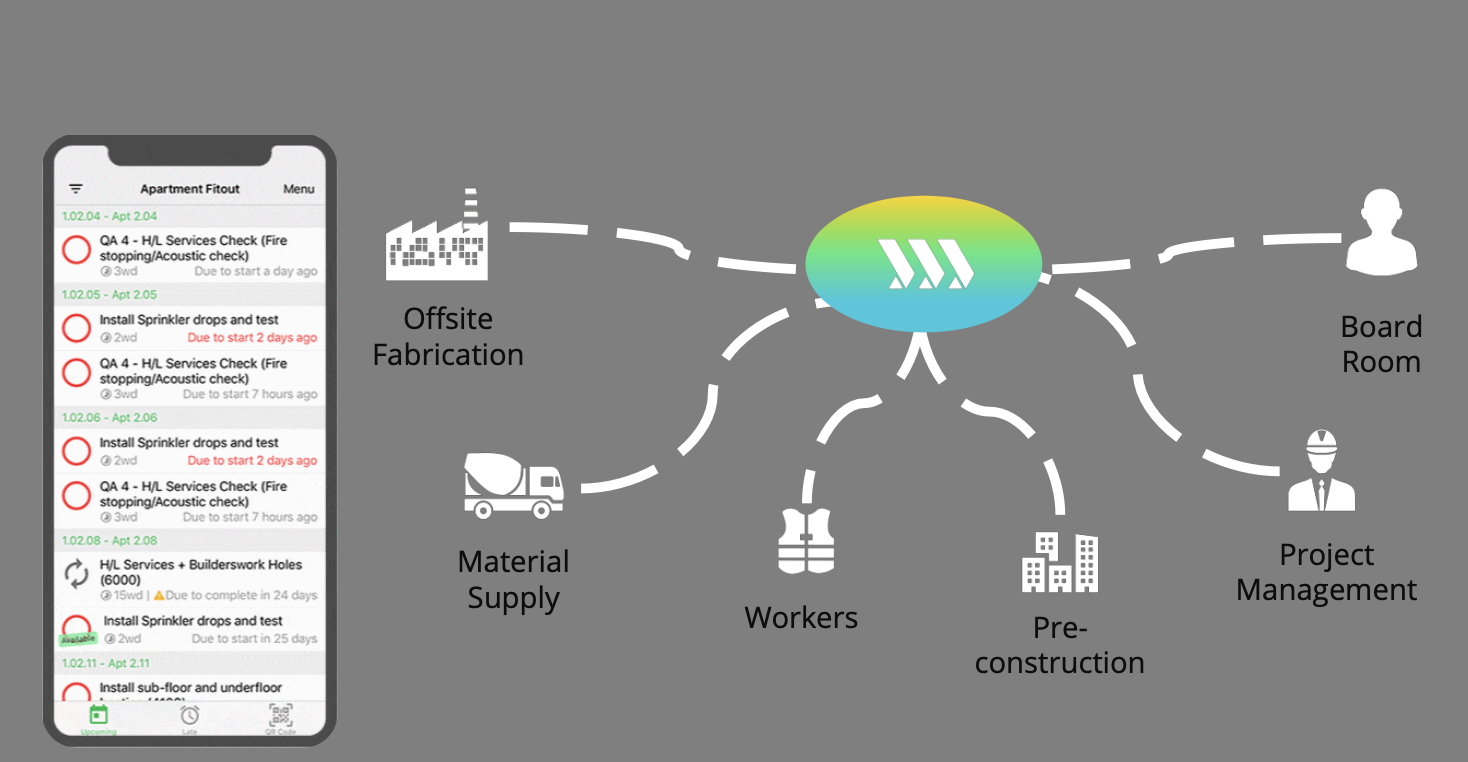 Sablono enhances project collaboration by connecting trades in real time, allowing project managers and subcontractors to easily coordinate. The user-friendly Sablono mobile app helps you to seamlessly bring the right information to the right user at the right time, as a fully cloud-based solution, it's also fully capable of running offline and automatically syncs when back at the office.
One thing that particularly sets Sablono apart is that ownership is no longer left down to the planner - everyone is a project owner responsible for taking accountability for their work. You can assign workflows, roles, and responsibilities while communicating the plan to all partners. Subcontractors can then report progress, flag issues and submit QA assessments based on the tasks assigned to them.
They can clearly see what they should be working on and once they're finished they can easily use the app to offer up finished works for inspection so the next trade can get started without delay. The main contractor will then be notified about works completed per trade. This allows you to save a huge amount of time on field coordination.
Understand your projects like never before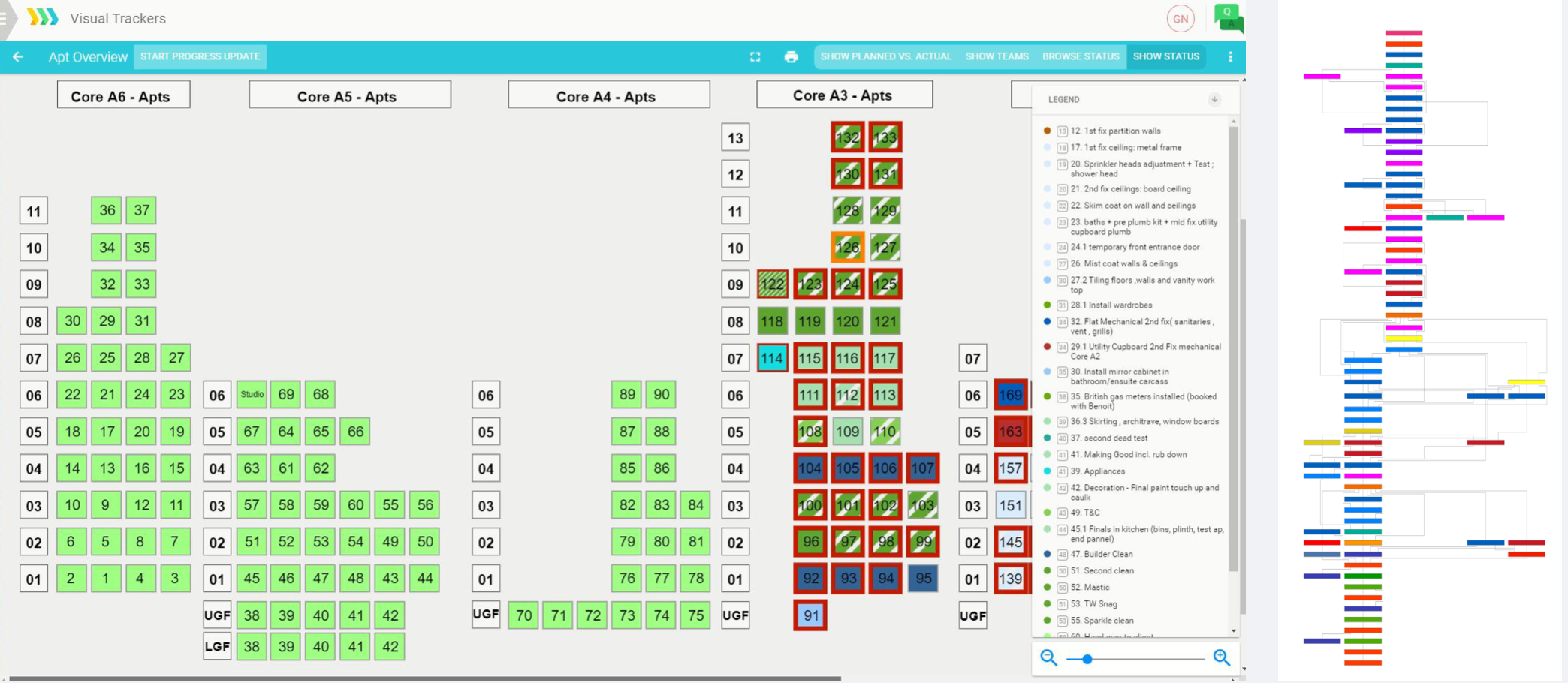 Progress information plays a crucial part in providing greater clarity and speeding up on-site decision-making. Most progress project management tracking tools rely on snapshot visual data that lacks both the sharing of information in real-time and the ability to foster true accountability and collaboration on-site. Sablono is different.
Sablono provides reliable real-time project information at the most granular level of detail. Semi-automated workflows based on a fully connected digital process actively inform and connect everyone on-site to provide instant access to information. No data processing time needed. No more guessing "percentage complete" values. Sablono provides structured information that makes everything clear.

The golden thread made simple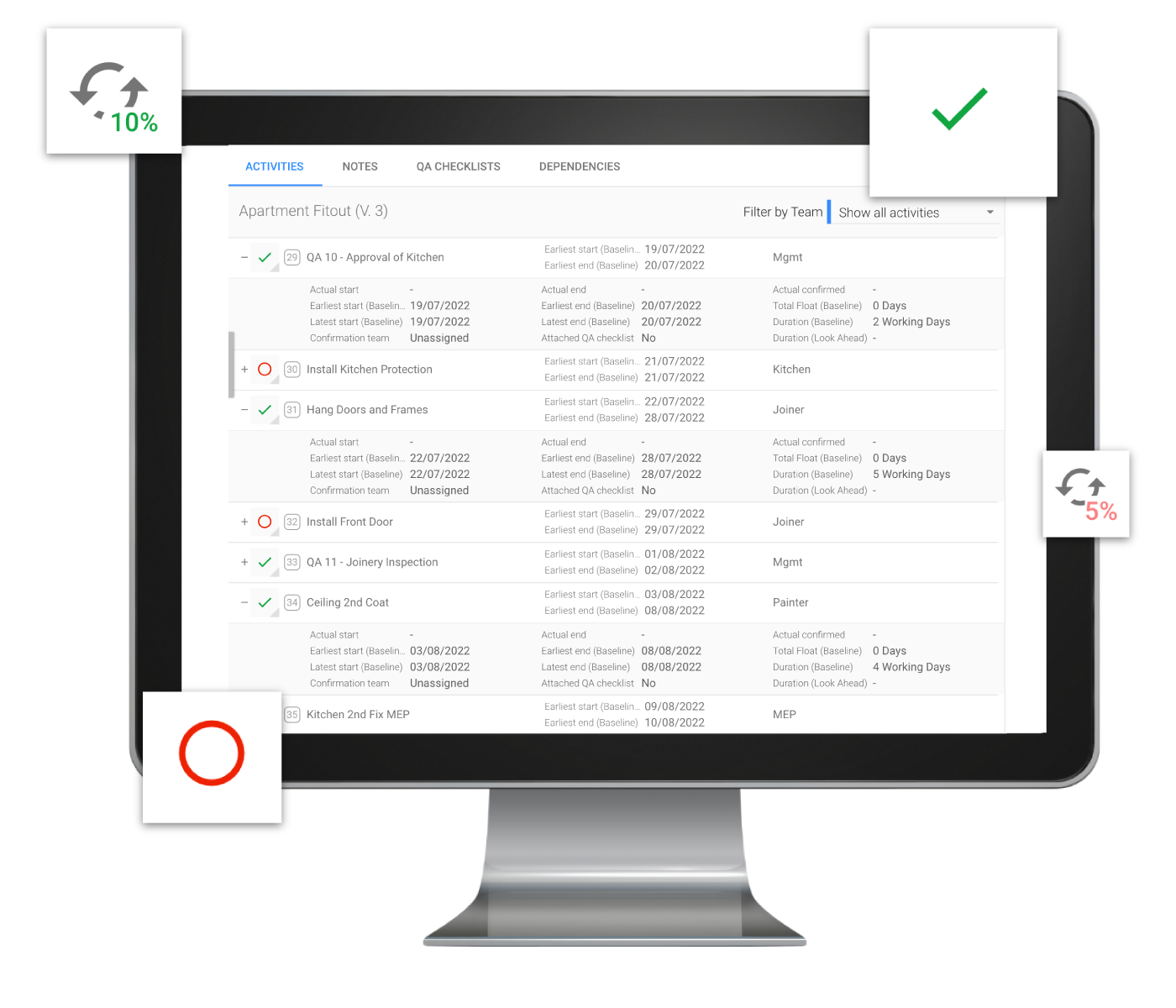 Sablono makes it easy to create a fully accountable digital audit trail that you can access at any time. Create a heavily detailed map of events so that you can revisit your construction project planning any time you like. The trail of events is a reliable chart, showcasing time stamps of recorded incidents and activities. You can use this information for any claims and disputes should they arise later.
Sablono construction daily reporting software helps you to understand the chain of events that go into completing a project - not just a series of 'snapshots'. It provides insights into invaluable data such as:
Which subcontractor performed the work at what point in time?
Was it signed-off? If so, by whom?
What were the findings during the handover process?
Were defects recorded?
Were they resolved? And if so, where can you find this information?
Who confirmed the issues as resolved?
How many times were activities rejected? Why?
How can we do it better next time? What are the "negative" patterns in my process that I should work on going forward?
Insights and tools that help optimise your project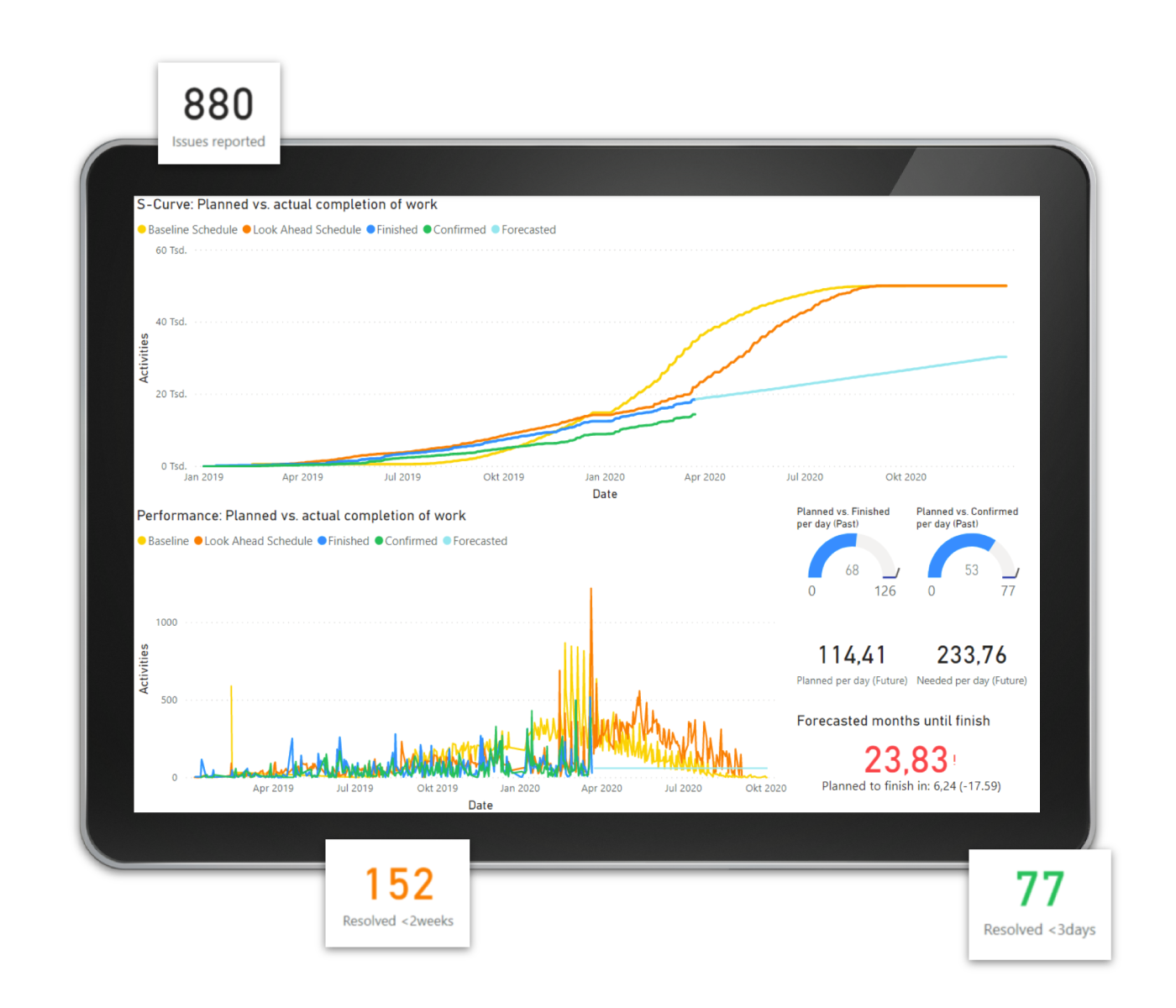 Use the mobile app or the web platform to report progress against your activities. Compare planned vs. actual workforce to gain a clear picture of your project and utilise Sablono's structured data to understand the root cause of delays and quality issues.
Sablono clearly displays your project and provides visualisations linked to KPIs that allow you to easily assess which areas are performing well and which areas need improvement. If you are facing delays, you can create a Look Ahead plan to keep you and your teams on track and create site dashboards to keep on top of your progress.
On top of this, Sablono's easy-to-use process builder lets you plan sequences for all sorts of activities based on what has worked best in the past. Define the flow of trades, responsible companies, durations and quality checks and sign-off procedures. They can be as complex as the apartment fit-out process or as simple as a 6-step façade- sequence.
Intuitive reporting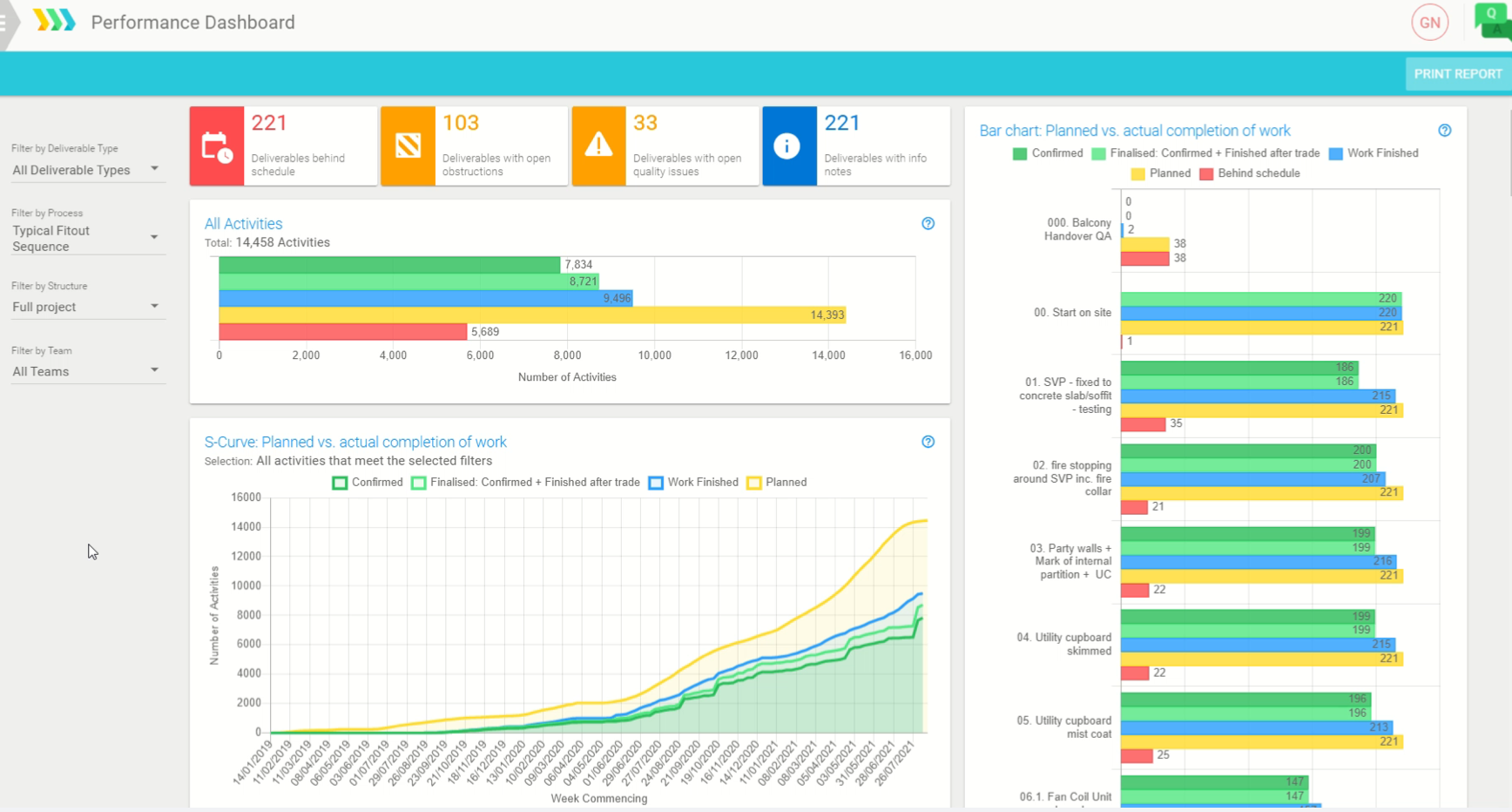 Gain practical information on all aspects of project planning using Sablono Report. Advanced technology allows you to import your original work schedules from Excel, MS Project, P6 or Asta. You can present baseline dates seamlessly and reuse WBS and all deliverables.
Create automated performance dashboards and construction activity reports. Custom dashboards and reports allow you to dive deep into your project data. It also lets you standardise business reporting to save time.
Built-in quality control and quality assurance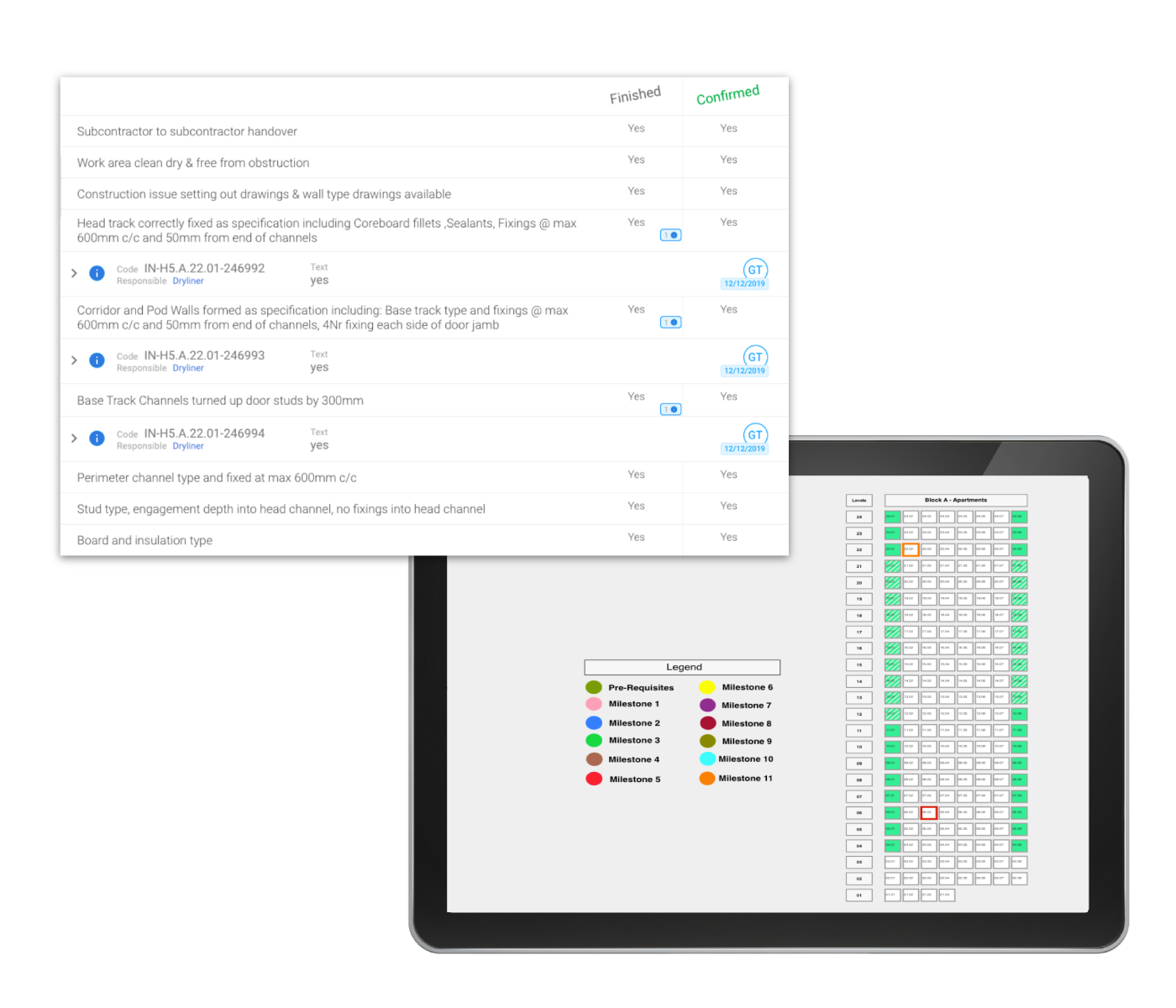 Gain access to top-notch quality analysis features via Sablono. You can attach QA checklists to all your activities as part of your daily processes. You can also attach any updates on construction issues related to specific activities or an entire project and can make this information available for all members of your team to see in moments.
Before trades can mark work as completed, they have to fill out a questionnaire to make sure that it meets the spec. They also have to submit relevant images of work as evidence to support this. Once a QA checklist has been submitted, you can confirm or reject activities to ensure that all aspects of your project are up to standard.
Track the progress of your project with ease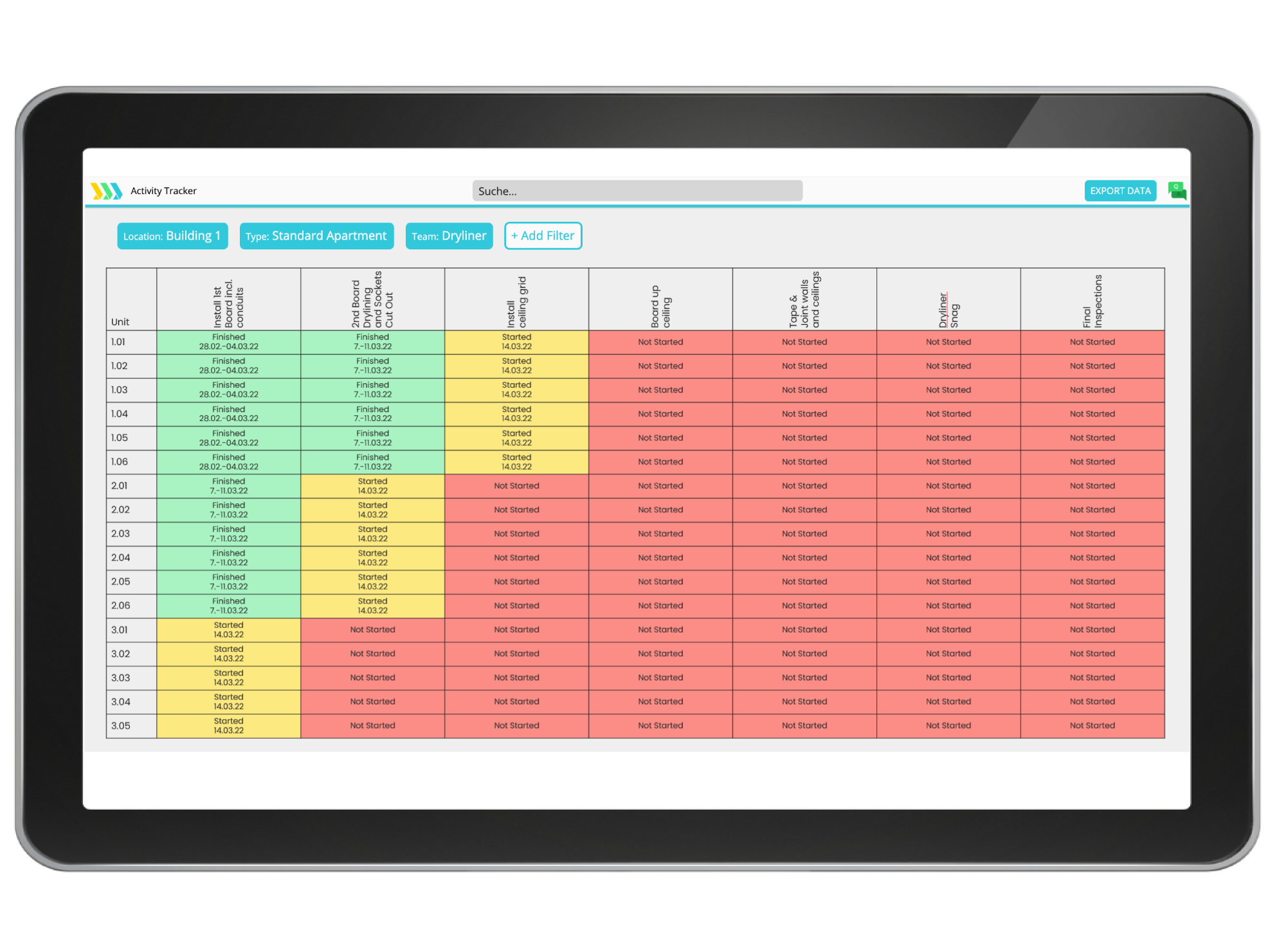 While traditional ways of working see the use of multiple different trackers used across the project, Sablono's Activity Tracker replaces this with a single tracker that provides one version of the truth on projects. Track 500,000+ activities from one platform and watch silos break down.
You can develop schematic overviews and customised visuals of your project by uploading your drawings which will be converted into automated visual trackers that help you to map progress and quality via real-time updates.
Stay on-budget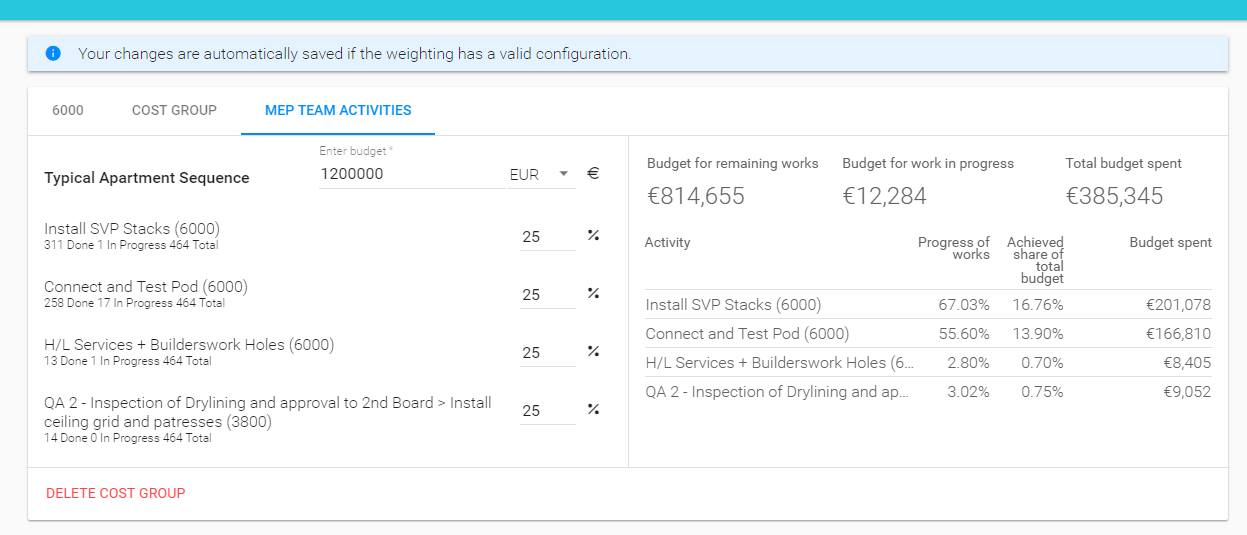 You can create cost packages which include the activities of your custom business processes. Allot a budget to all your work packages and use Sablono's collaborative progress database to track the financial state of your project.
You can also access commercial dashboards to understand how much payment each subcontractor will receive based on their contribution. Insights into your planned vs actual progress will help you to see if you're on track to staying on budget.
Easy integration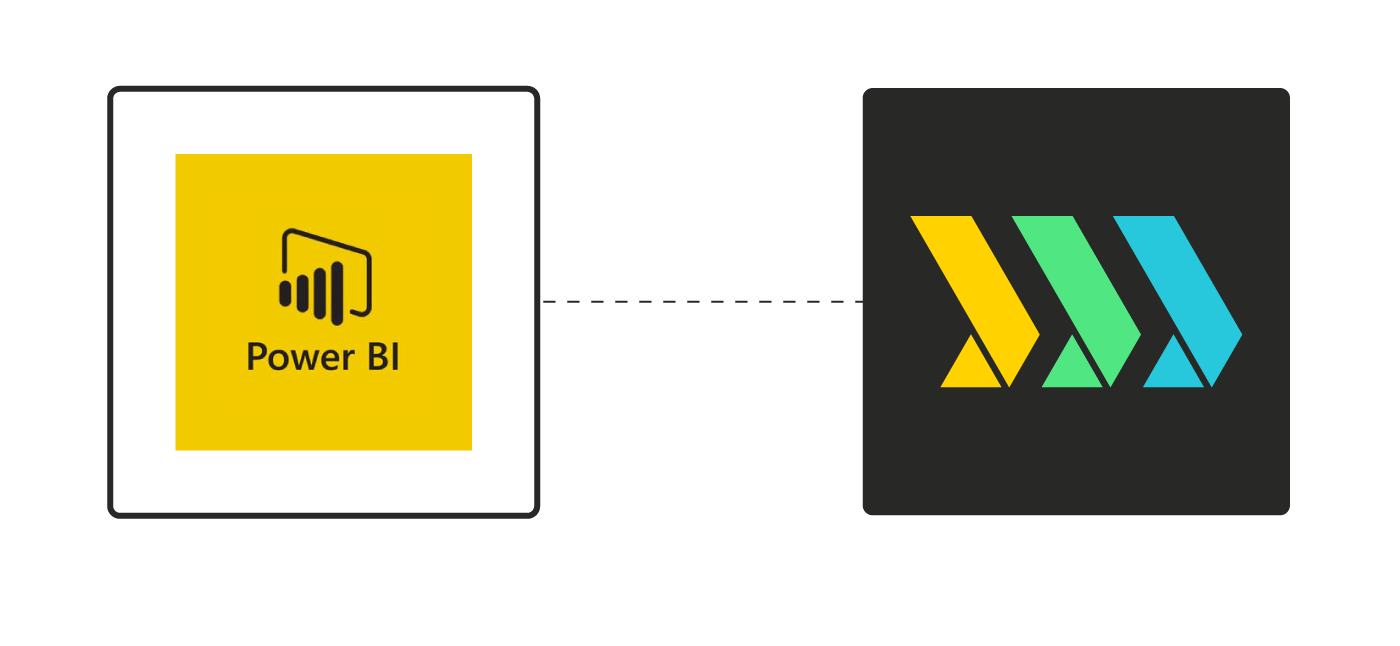 The Reporting API at Sablono helps to pull your data into a BI tool which can create your own custom dashboards. You can report progress from your other systems by sending progress change events to Sablono's Progress Change API.
You can also create integrations with any other tool. For instance, you can automatically map Sablono's activities when you upload new documents. You can also connect to progress measuring systems in your supply chain to prevent double reporting.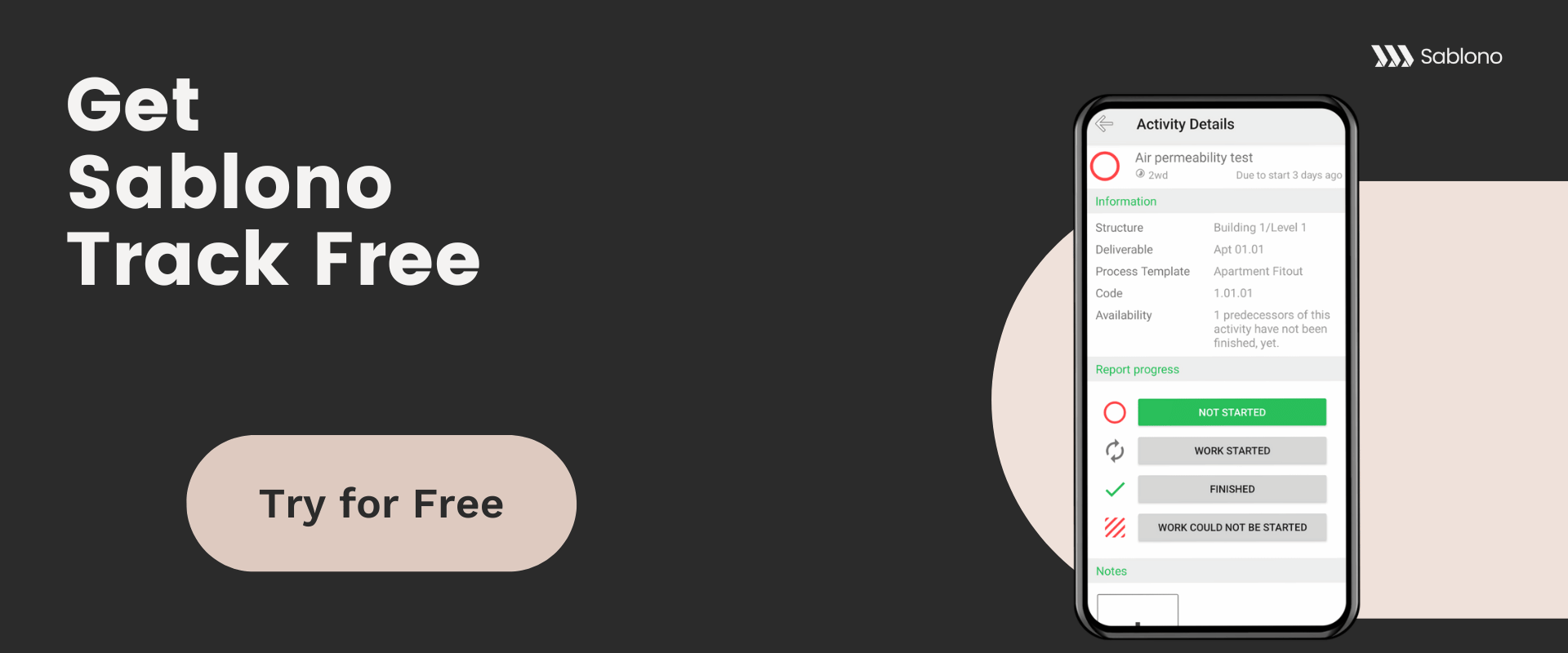 What makes Sablono unique?
Centralised system: Sablono is production process oriented. Its holistic virtual platform centralises all progress on construction projects so that you could visualize and examine real-time data.

Collaboration: A fully interconnected construction workflow is available for you to manage multiple projects and facilitate engagement between all parties involved in the process.

Digital activity management: Sablono is your mobile solution in the field which keeps track of thousands of activities across your project teams, supply chain, and subcontractors.

Granular level of detail: Unprecedented level of detail is available for your projects in order to ensure greater visibility and clarity.

Scalability: You can use Sablono for the largest, most complex construction projects.

Single source of truth: Sablono transforms individual construction companies making sure that all parties are connected and have access to the golden thread of information.

Standardisation: You can standardise repetitive workflows so that you can get the project done quicker and leave behind fewer errors.

Transformation: Sablono transforms the entire construction project execution phase. Rather than simply managing only one aspect of the project. It gets to the core of bad process across the construction execution phase and promotes more efficient ways of working.
Reviews
"We would definitely implement Sablono on a next project, regardless of the scope. It's an easier and more accurate way to manage."
"It saves those huge piles of paper back in the site office and means you can hand over from trade to trade instantly. The tool has helped improve relations between the trades."
"Sablono is a truly collaborative working platform which enables multi-user live updates providing real-time progress reports. The biggest benefit of Sablono is when used with a repetitive work stream."
"I have been impressed with the overall look and feel of the software, it is relatively easy to circumnavigate the numerous features that the software possesses in the web version."
Note: If you'd like to learn how Sablono can help you on your projects, you can book a demo here.

Other project management software for construction:
2. Procore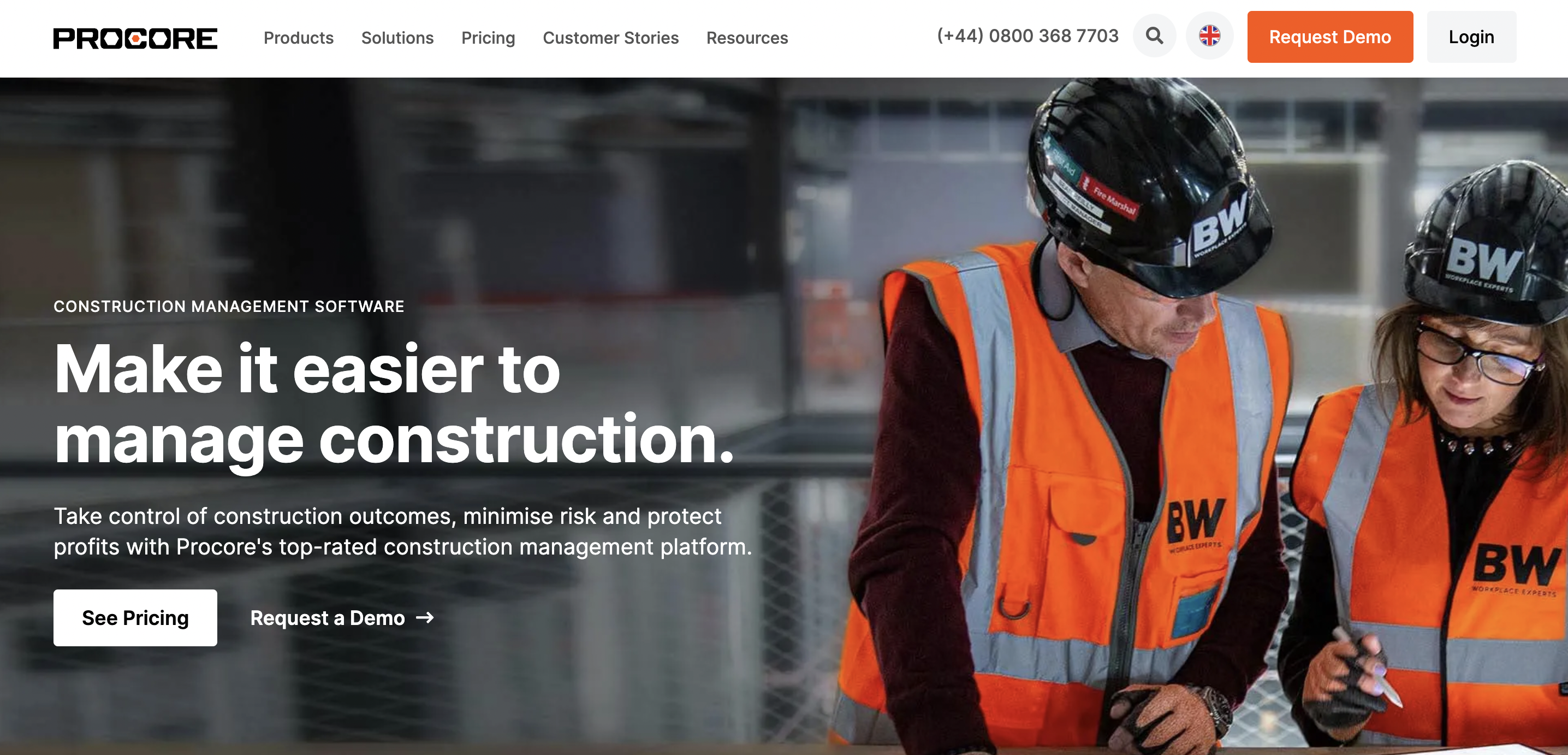 Procore is one of the most widely available project management software on the market. Better Business Bureau has rated them A+ for their positive customer reputation and reviews. In addition to construction project management tools, Procore also provides financial management software, field service, and quality and safety management.
Procore offers several features that are useful for any type of construction project. Features include project scheduling, bidding, drawings, meetings, emails, daily logs, and punch lists. They also offer submittals, RFIs, project specifications, and time tracking.
Procore Marketplace offers several integrations with third-party products. Examples of some of these integration partners are Docusign, Vista, Spectrum, Quickbooks, Sage 300 CRE, Microsoft Project, Primavera P6, etc. They also have highly rated customer service, technical support, and training reviews.
Procore is preferable for businesses generating $5 million or more in revenue annually. Their exact pricing is unavailable online although their project management software is priced at approximately $667 per month. The price of a combination of its financial management and project management tools is around $811 each month. However, since the software is customizable, the exact price may fluctuate based on how many products or modules you opt to include in your package.
Procore is a good option if you want a well-established project management vendor, however, it's worth noting that at present, its accounting capabilities are not fully developed and there is reduced flexibility in some workflows. Some have also reported challenges in getting set up with the software.


3. Autodesk Construction Cloud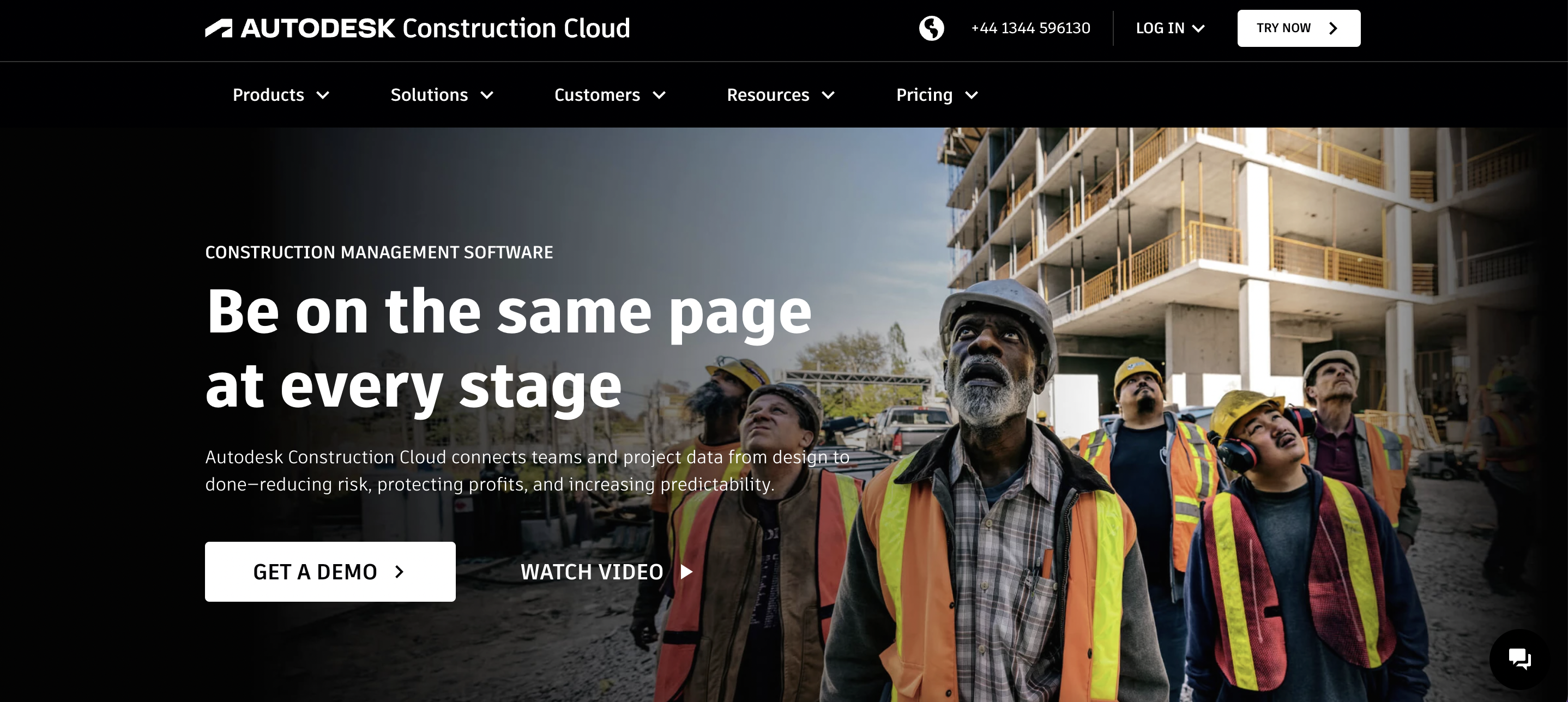 Autodesk's Construction Cloud, which comprises their former products Plangrid and BIM 360, is among the most widely used project management tools. Autodesk Build includes financial management, document management, markups, design reviews, change orders, and safety inspections. Other features include construction reporting, submittals, RFIs, and dashboards.
Autodesk additionally offers integration options through their open API which enables developers to make their own integrations. There is also an integration marketplace in which developers could present their integrations or download integrations made by other developers.
Autodesk offers customisable products tailored to adapt to different phases of the life cycle of your construction project. You get more flexibility in terms of selecting the features that you need for your project. Also, there are a variety of cloud-based options available to you and the ability to select various modules.
Pricing for this construction management software is low initially but may soon spiral upwards based on how many modules you decide to add. Also, the offering, positioning, and organisation of products can be slightly confusing to understand.
Autodesk Construction Cloud is mainly a good option if you are working on large projects that include a high level of coordination across multiple teams but may not work as well if you want to have the option to scale over time.
4. VisiLean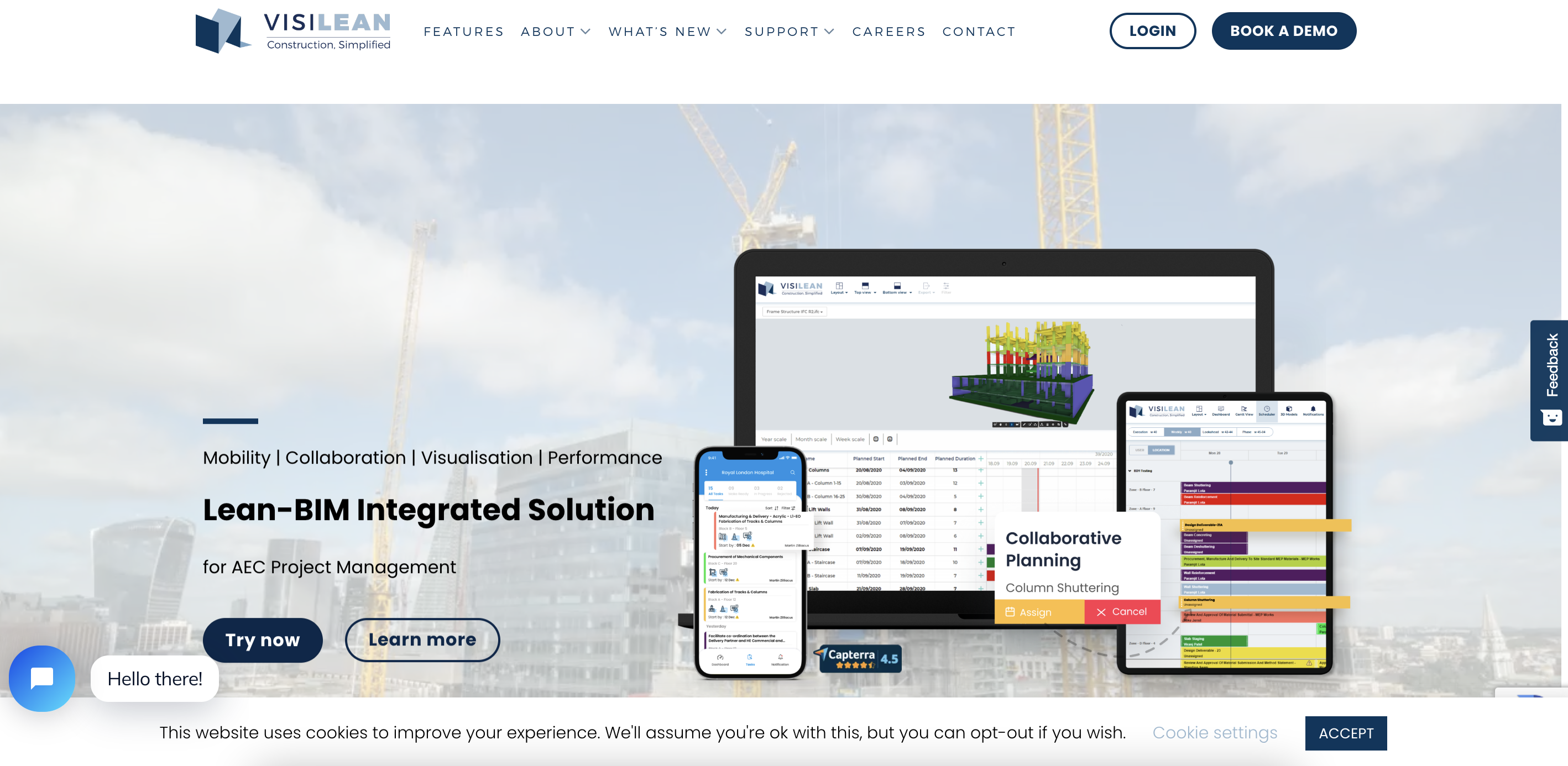 VisiLean is a cloud-based construction project management software geared towards helping businesses connect and manage data, teams, and projects in real-time.
You can use VisiLean on your desktop, Android, and iPhone/iPad and can access a range of customer support options like live chat, phone support, FAQs, email/helpdesk support, etc.
With VisiLean you can also benefit from real-time tracking and collaboration. VisiLean facilitates remote collaboration between your teams by giving real-time updates. They also provide flexible ways to manage your project schedule - whether this is through Gantt, planner board or exporting to P6.
The downsides are that It is difficult for you to use VisiLean in areas without an internet connection so this is something to keep in mind if you're working in remote areas. On top of this, the project scheduling functionality, while showing delays in activity, does not offer predictions around the impact on project completion should there be any delays.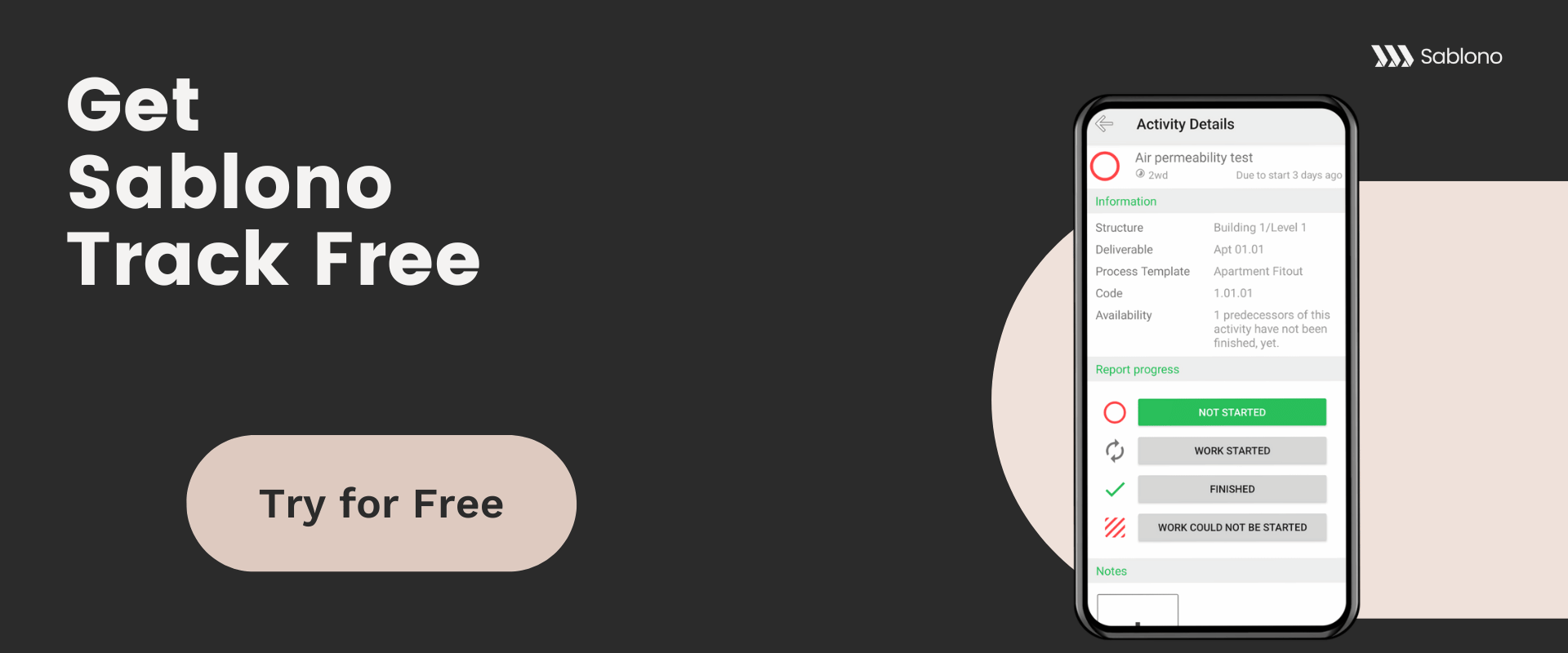 Best Construction Project Management Software UK: Conclusion
The best construction project management software platforms achieve the following outcomes:
Granular insights in real-time to give an accurate picture of a project.
Foster collaboration and accountability amongst all parties involved.
A fully traceable digital audit trail that creates the golden thread.
While all the project management software discussed above can provide one or more of these outcomes to some extent, not all are created equal.
Sablono was created to unlock maximum value on projects by providing unprecedented levels of detail and one version of the truth that seamlessly connects everyone and everything on a project in real-time. To learn how Sablono can help you in your projects, schedule a demo.