Construction Software
Best Construction Scheduling Software
Looking for construction scheduling software? This article explores the top construction planning and scheduling software solutions on the market in 2023.
---
There are many construction scheduling software solutions on the market, all promising to bring about more efficient, smoother running projects. At this point, you've probably come across a few but may still feel stuck on which one is the best option for your projects. The question is, which features set apart the great solutions from the good, and how do these capabilities actually add value on-site?
This article will take a deep dive to answer these questions and guide you in your search so you can determine which option will be the best investment for you.


3 goals of construction planning and scheduling software:
Construction scheduling software helps manage the entire construction project. This includes everything from equipment, organising data, communicating, coordinating between employees, and storing essential documents. It also manages deadlines, finances, and bidding on projects. Construction scheduling mainly seeks to achieve three primary goals:
Milestones identification -

Breaking down the project into manageable steps to clearly understand the

dates that deliverables should be completed is central to a good construction planning and scheduling software solution. Clear visual insights into the progress that you have made will allow you to see whether your project is on track.

Properly allocating resources -

Construction job scheduling software will also help you to manage your resources - this includes everything from labour, materials and finances. The best construction scheduling software helps you to accurately track your project and assign tasks so that you can plan with greater precision.

Chalking out activities -

to avoid confusion that can easily arise in large construction sites, the goal of construction scheduling software is to

track the thousands of activities

that take place on-site. This usually features a central system where all activities are reported and tracked. The best construction planning software solutions will give you a birds-eye view into insights such as which workers will be needed for what projects on which days, what activities have been completed, when and by whom, and whether the work has fulfilled the set requirements.
Note: We created Sablono to help even the largest and most complex project plan with clarity and that's why we're proud to say that we've helped some of the biggest names in the construction industry. You can read about us in detail below or schedule a demo if you want to see exactly how we could help your organisation.
Best construction scheduling software
Sablono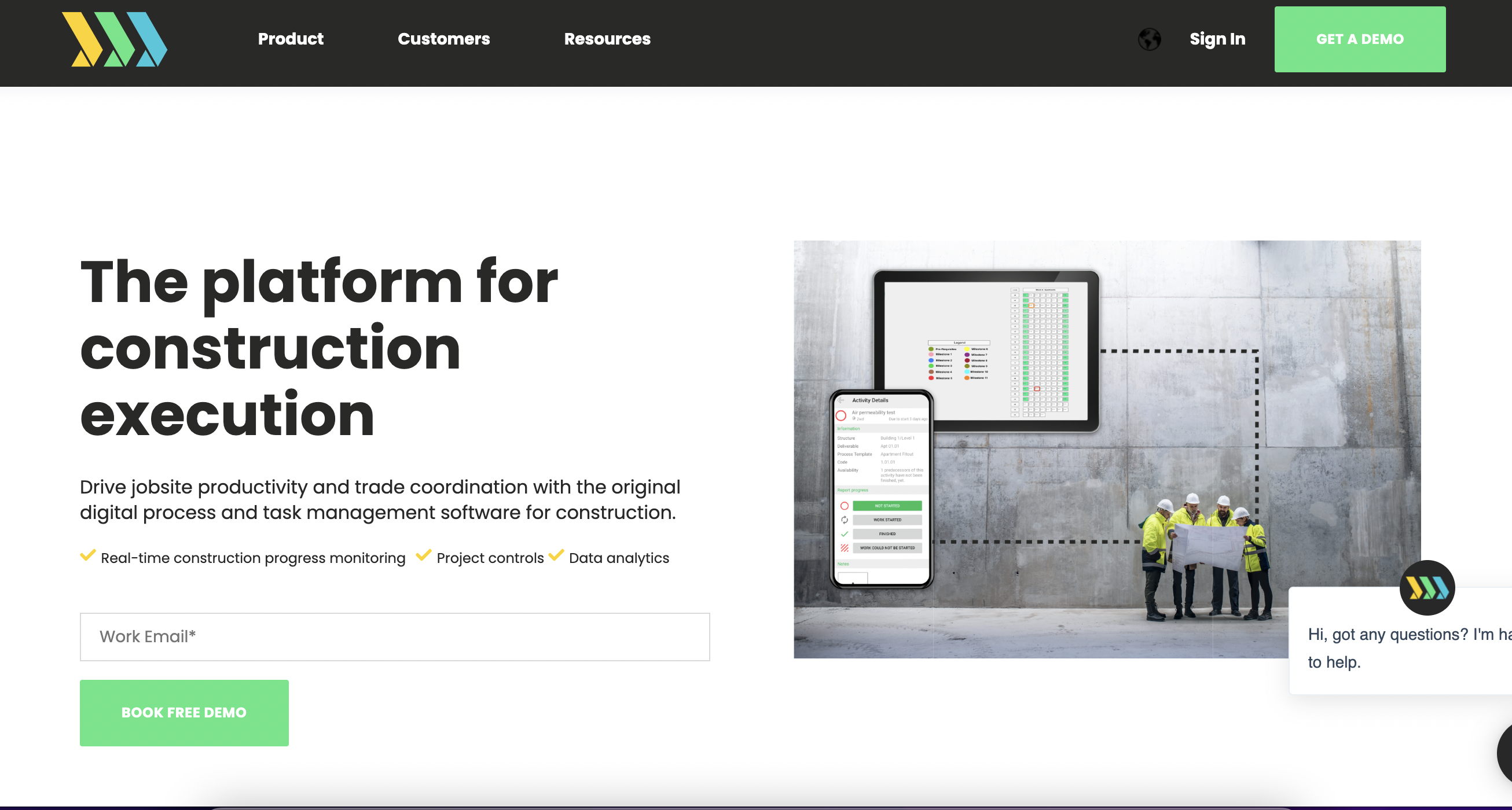 As the first solution to combine quality and progress-related information in one system, Sablono not only allows insights into how your project is performing in regards to the progress or quality of work – it also gives a holistic understanding of how delays or defects impact the wider project performance so you can plan with confidence.
Sablono planning and scheduling capabilities:
Resource management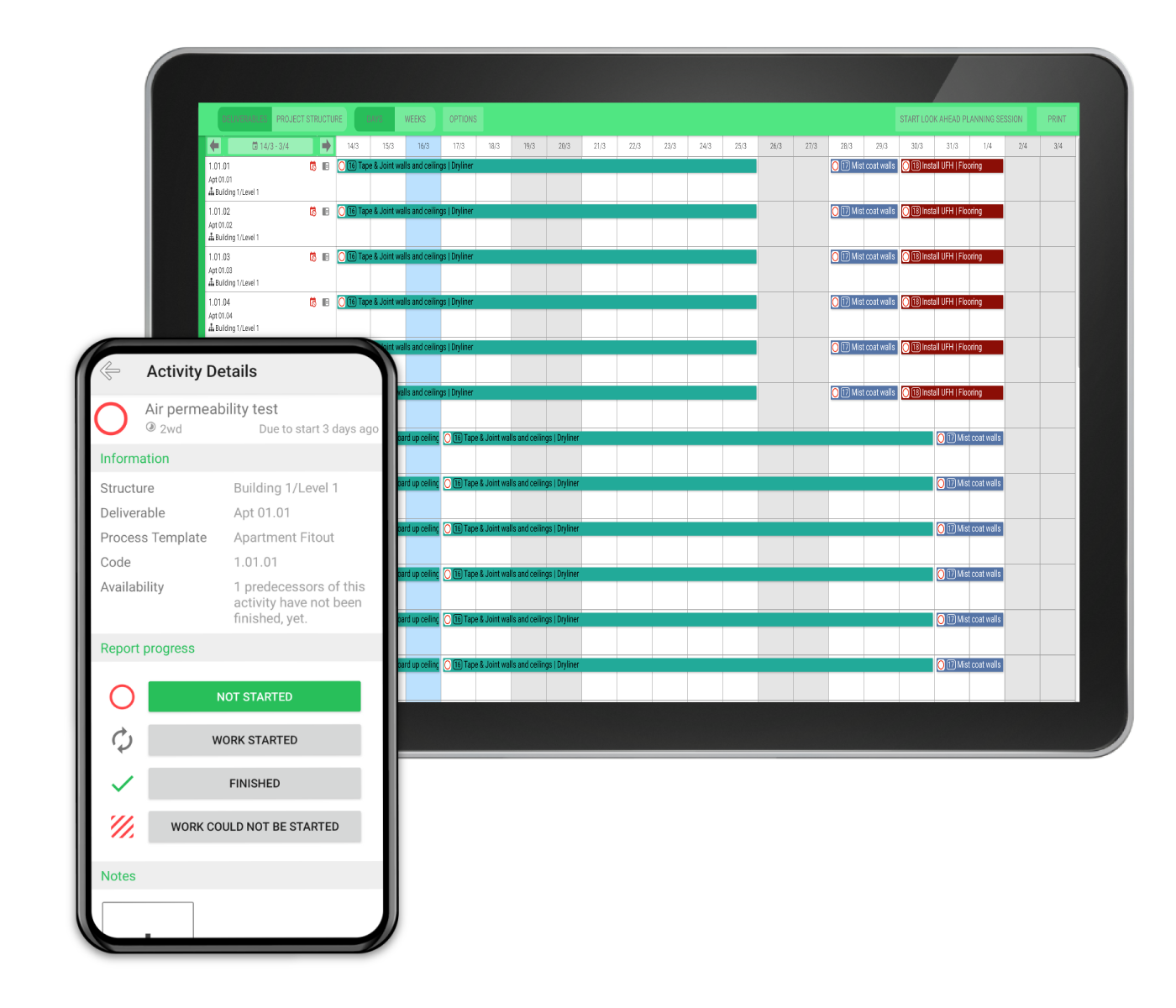 Sablono helps you to manage all the different parts that make up your project. Easily bring your internal teams and subcontractors onto the platform and quickly assign them activities. Make them part of your detailed execution process for seamless work coordination and mobile progress reporting.
You can define planned labour across each of the activities that take place on-site and easily assign roles, responsibilities and workflows to make sure everyone is clear on exactly what needs to happen to stay on track.
You can also review planned labour per team for your baseline schedule or while updating your look ahead schedule to avoid peaks and balance your workforce on site.
Sablono also allows you to streamline trade handovers with workflows that allow trades to mark work as completed which automatically notifies the next team so they can start work without delay.
Plan with confidence by understanding how each team on-site will contribute and compare planned vs. actual workforce to understand the potential root cause of delays.
Cost planning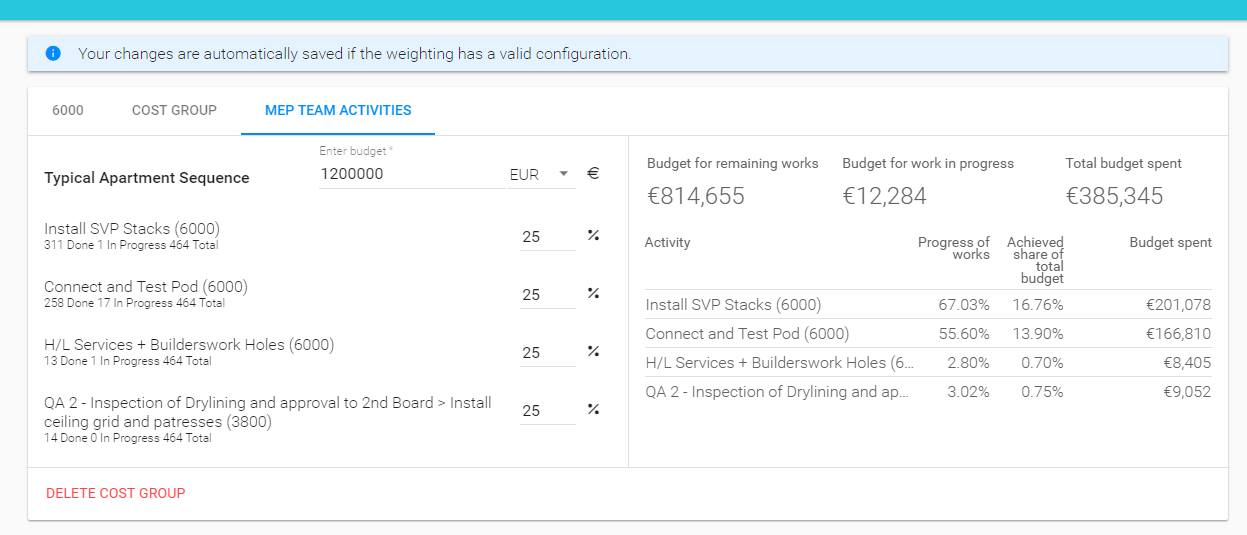 Sablono's real-time and collaborative progress database allows you to effectively plan out your costs across the duration of the project.
Create cost packages including the activities within your custom business processes.

Assign a budget to all work packages and activities to understand the actual financial state of the project.

Commercial dashboards will automatically display how much each sub-contractor needs to be paid based on their reported progress.
Review the commercial state of the project by e.g. end of last month using Sablono's progress audit trail.
Building sequences and standardisation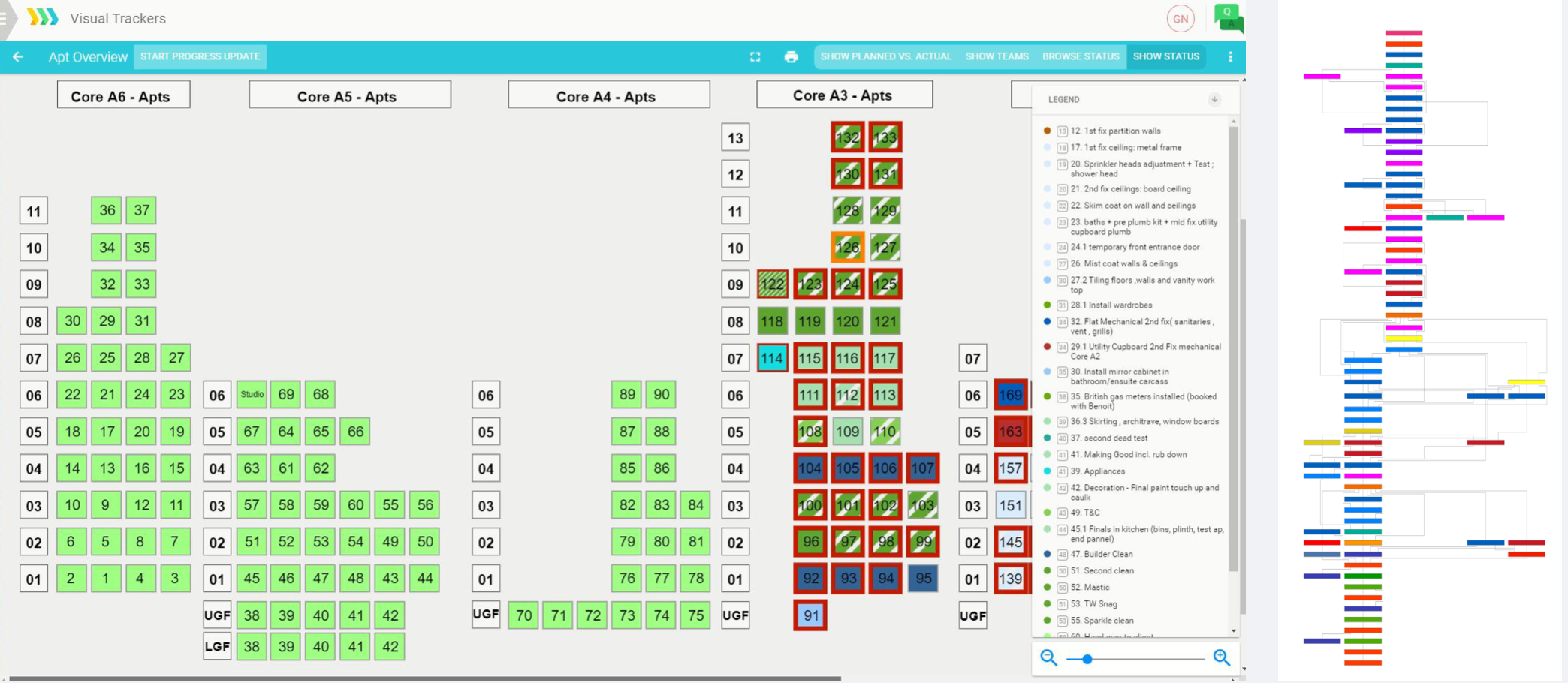 Sablono's intuitive platform allows you to create semi-automated workflows that enable you to turn your baseline data into a production plan.


You can define the flow of trades, responsible companies, durations and quality checks and sign-off procedures.

You can even link them with commercial valuation. Visualise activities, responsibilities and sign-offs, add hold points and QA checksheets (ITPs, WIR), capture processes in reusable templates and more.

With Sablono you can take best practices across your project and easily standardise and scale across your projects to simplify project execution. Create sequences of works for each of your activities whether this be as complex as the apartment fit-out process or as simple as a 6-step façade- sequence. Sablono simplifies planning even the most complex projects.
Construction supply chain management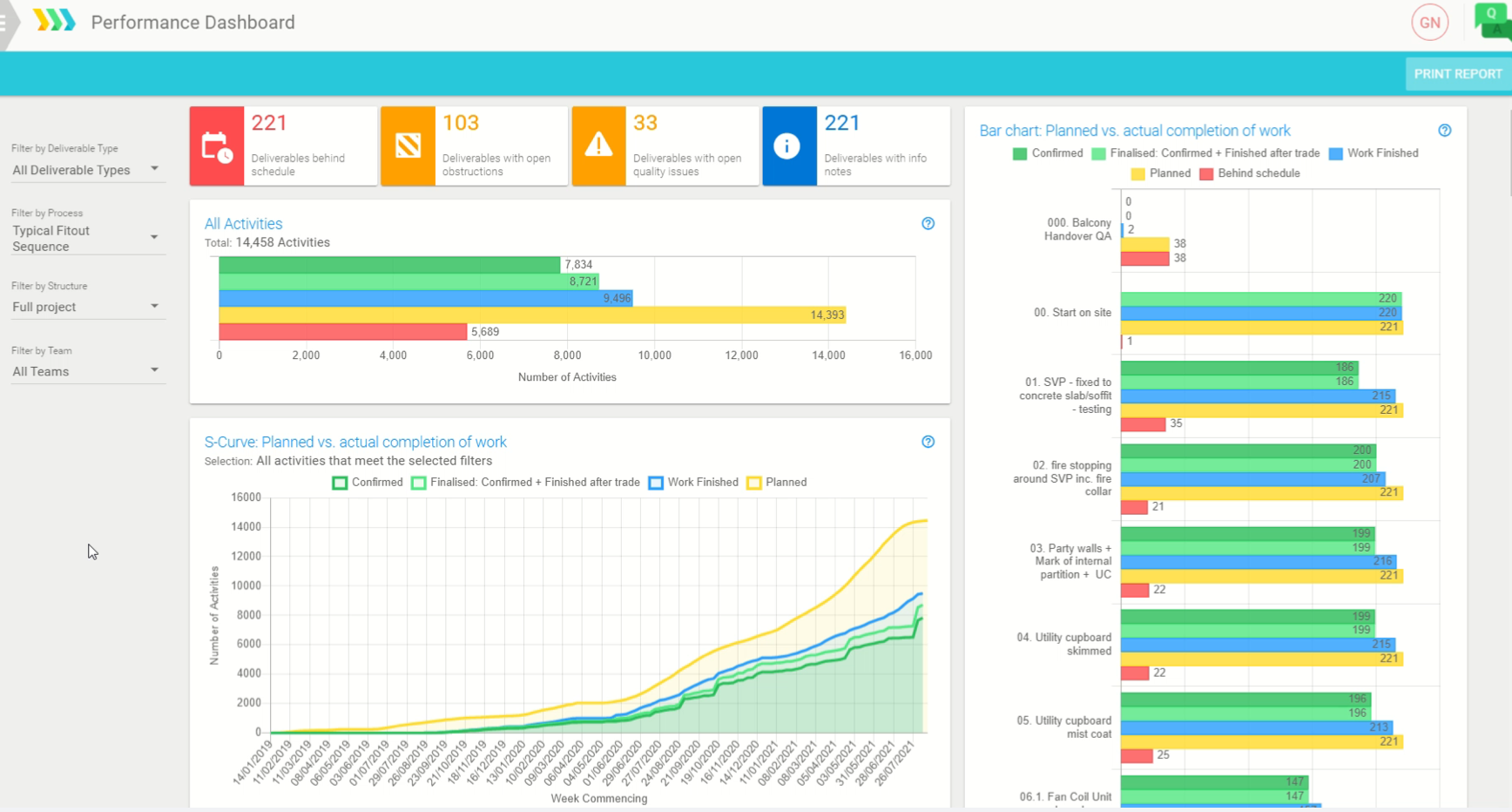 Sablono allows you to manage the full construction supply chain in a single system. Work is based on real-time data collected directly from the field which automatically updates your commercial dashboard to save time.
Roll out your processes at scale to create projects including up to 500k activities and beyond. Use the mobile app or the web platform to report progress against your activities and create a comprehensive digital audit trail of your project.
And if you're facing delays, Sablono enables you to reschedule and create a look ahead plan for your activities while keeping the baseline intact and automatically pushing the new plan directly to users' mobile devices.
You can also review the status of your project in numerous planned vs. actual dashboards, and create custom KPIs and dashboards and S-curves to help you plan and schedule tasks with clarity.
Other features include:
Construction quality management system

Root cause analysis

Activity Tracker

Integrations with P6, MS Project, Asta and Excel
Benefits of using Sablono
A tool like Sablono helps you model processes, track progress collaboratively, and coordinate effectively with multiple companies and subcontractors. This way, Sablono allows you to focus on the most important aspects of your project and ensures on-time delivery and adherence to the budget.
Sablono

helps transform on-site processes.

The high-level execution platform allows you to preplan the entire construction sequence digitally at the highest- level of detail while integrating everyone on the delivery team with ease.

This leads to major gains in efficiency and helps to streamline the overall flow of trades


With Sablono,

achieving the golden thread is easy

. As all project information is reported in its centralised system in real-time, you can rest assured that your entire team have easy access to standardised, well-structured information. This is also invaluable when it comes to claims management, managing contractor performance and staying on top of the latest safety and construction quality standards.



Sablono also

enhances decision-making

in your construction project. Progress information plays a crucial part in providing greater clarity and speeding up on-site decision-making. Most progress tracking tools rely on snapshot visual data that lacks both the sharing of information in real-time and the ability to foster true accountability and collaboration on-site. Sablono provides real-time, structured data that makes everything clear - no data processing time needed and no more guessing "percentage complete" values.



Most importantly, Sablono

promotes transparency and collaboration

. It helps you to understand the chain of events that go into completing a project - not just a series of 'snapshots'. It provides insights into invaluable data such as which subcontractor performed the work at what point in time? Was it signed off? If so, by whom? by clearly representing all the available data.



Plus, with Sablono, ownership is no longer left down to the planner -

everyone is a project owner

responsible for taking accountability for their work and can use the platform to report progress, flag issues, submit QA assessments and more.
Want to see how Sablono can help streamline your project planning and scheduling? Schedule a demo here.
FAQs about Sablono
Is Sablono cloud-based?
Yes, Sablono is a cloud-based construction scheduling software and is completely mobile, you can see them on smart TVs and other handheld devices on the go.
Sablono is best for:
Enterprise businesses that have large-scale construction projects.


Sablono reviews
Sablono is rated 5 stars on Capterra. Here's what others are saying:
"It saves those huge piles of paper back in the site office and means you can hand over from trade to trade instantly. The tool has helped improve relations between the trades." - Project Director, Lendlease
"Sablono is a truly collaborative working platform which enables multi-user live updates providing real-time progress reports. The biggest benefit of Sablono is when used with a repetitive work stream." - Senior Planner, Interserve
"I have been impressed with the overall look and feel of the software, it is relatively easy to circumnavigate the numerous features that the software possesses in the web version." - Project Planner & Quality Manager, NG Bailey UK
"Sablono is a highly collaborative project platform that provides real-time progress reports and enables multi-user live updates. It provides best results when used with a repetitive work stream."



Other construction planning and scheduling software:
Autodesk BIM 360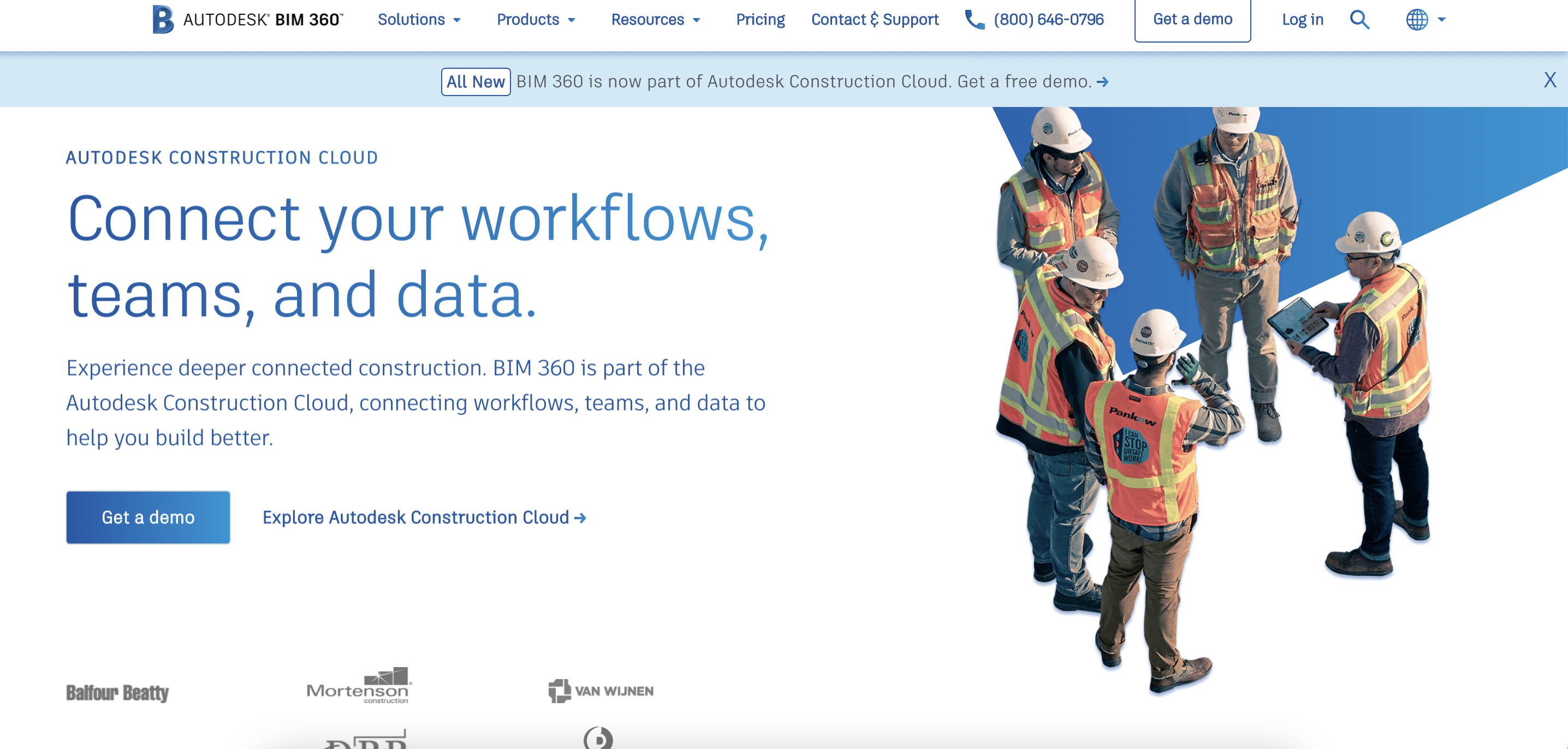 Autodesk BIM 360 is a construction scheduling software for BIM or Building Information Modelling, site, and project managers. With its help, the office and site components of the construction project become connected. It provides cloud-based access to models and plans, resulting in reduced risks, lower expenses, and faster project deliveries.
Key features
Centralised system

Project lifecycle management

Digital task management

Integrated quality management system

70+ software integrations
Pros
It can easily store 3D BIM architectural models, construction documents and temporary works.

A new update in the software shows the weather and the project location, just like a smart widget.
Cons
It is not user-friendly and requires time and effort to understand well.

Logos located in the top toolbars are tiny.

Clicking on the project does not display the general project information.

No premium consulting or integration services.
Pricing
$480.00 per user/per year
FAQs for Autodesk BIM 360
What is Autodesk BIM 360's best feature?
According to most reviewers, its RFI and collaboration tools are rated the highest.
Autodesk BIM 360 is best for:
Mid-sized companies and the construction industry.
Oracle Primavera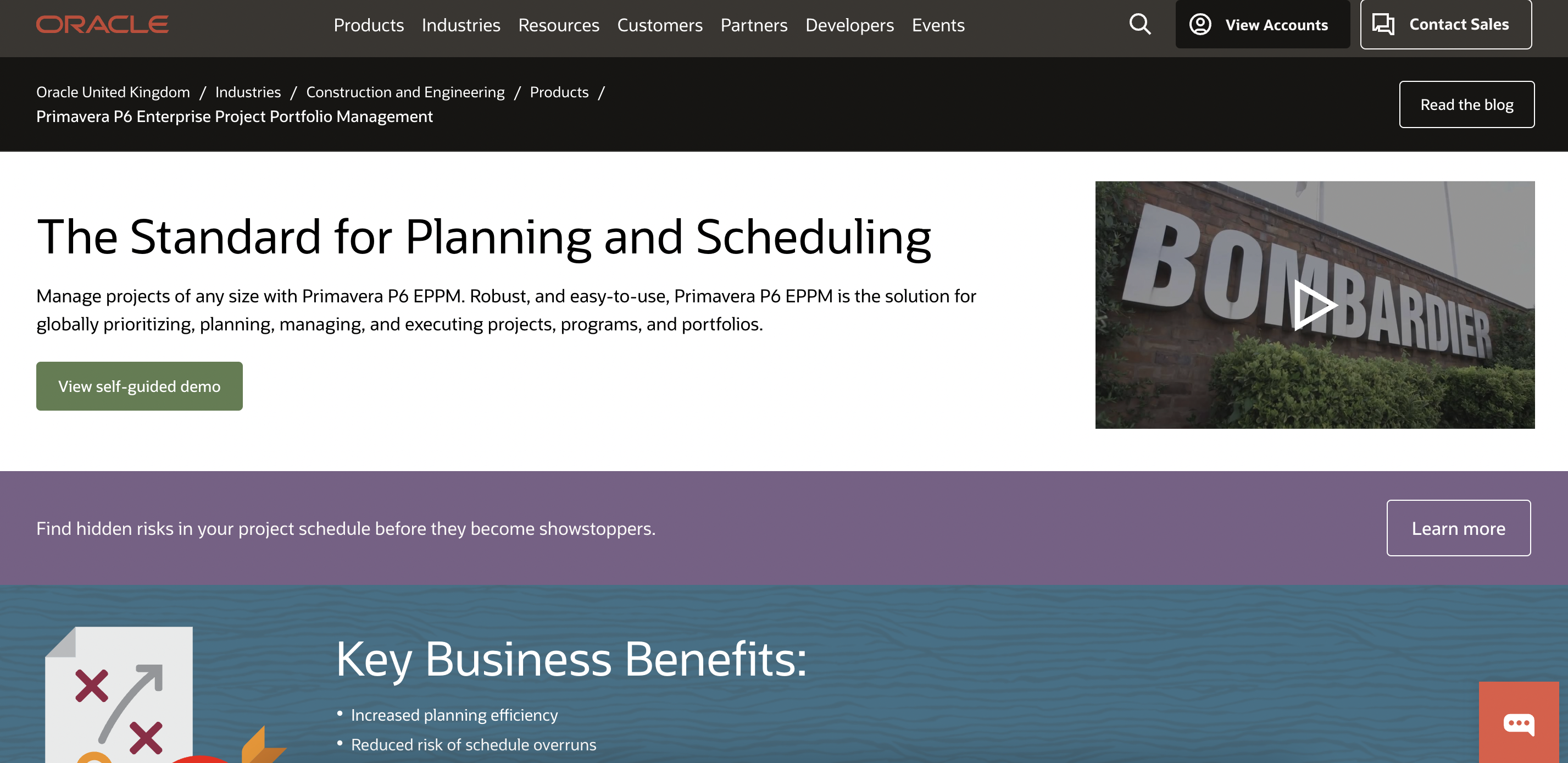 Oracle Primavera is a construction management software specially designed for asset-intensive and construction industries. It contains various components, including management, project planning and execution components and is a popular choice for construction scheduling software.
Key features
Plan, schedule, and control large-scale programs and individual projects.

Secure multiuser access to schedules.

Allow project managers to coordinate costs.

Open and schedule multiple projects simultaneously.

Adaptable views.

Team member interfaces for gathering status updates.
Pros
Seamless construction management.

Project milestones and deliverables are managed using configurable workflows.

Can be used on large projects.
Cons
The end user is unable to directly upload project documents.

Does not support an extensive number of languages.

Changes in the project cannot be requested.
FAQs for Oracle Primavera
Does Oracle Primavera have premium consulting?
No, Oracle Primavera does not have premium consulting or integration services.
Oracle Primavera is best for:
Enterprises and the construction industry.
Asta Power Project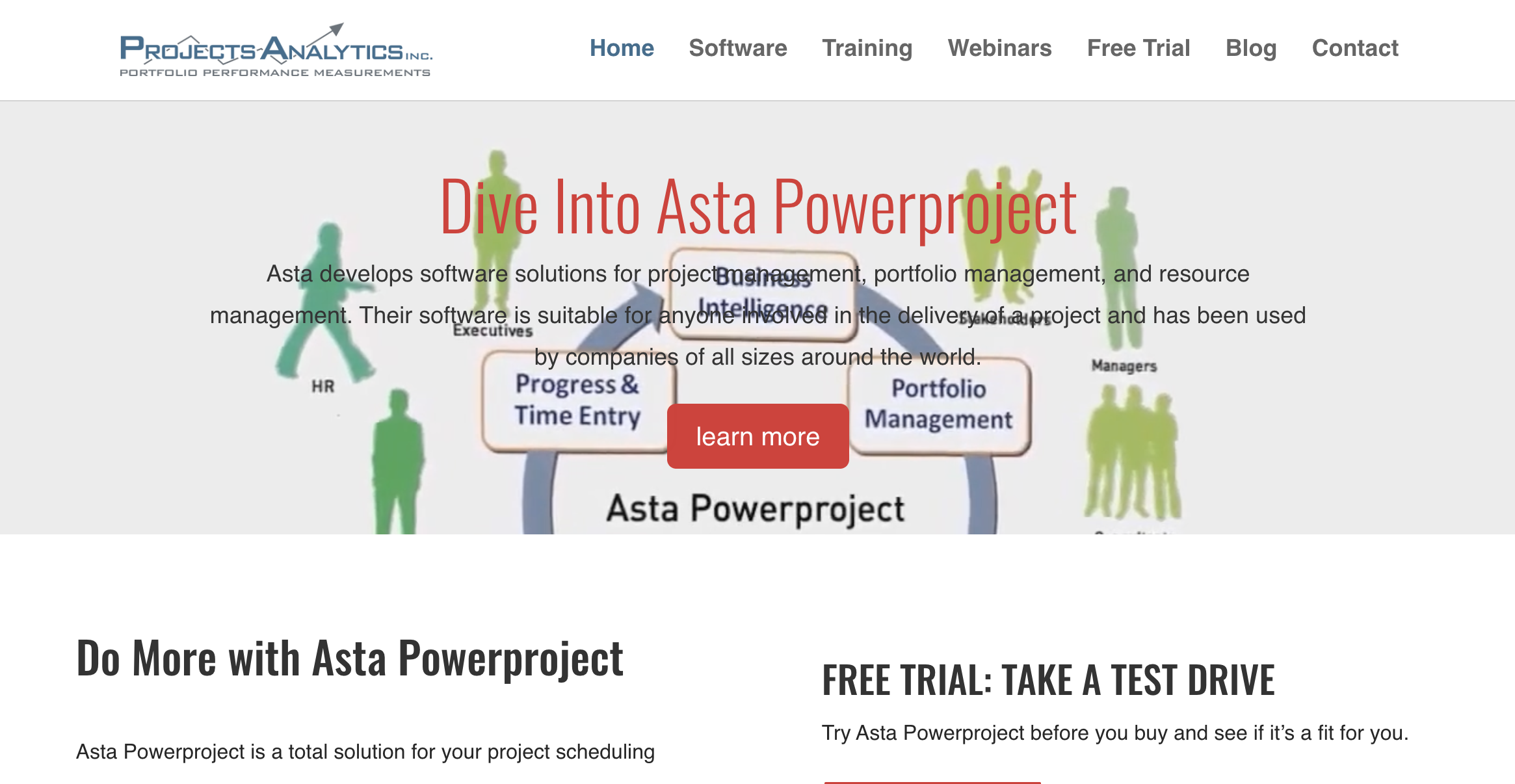 Asta Power Project is an emerging cloud-based construction management software. It is used by both small and large companies across the industry and acts as a cost-effective solution for construction planning and scheduling.
Key features
Net cash flow histograms including both cost and revenue.

Drag and drop functionality.

Multiple activities per row (for example, to depict the submittal process).

Easily draw relationships including lag.

Superior/flexible output using Powerdraw.

Unlimited undo and redo.

User-defined formulas in activity table columns (not global change as is required with P6).

Robust resource, cost and revenue features.
Pros
Powerful yet extremely easy to use.

Suits projects and portfolios of all sizes because it is highly scalable.

Allows filtering that helps in management by contractors.
Cons
More pricey than its competitors.
Pricing
Begins at $1300 per license.
Asta Power Project is best for:
Medium and large-sized businesses.
VisiLean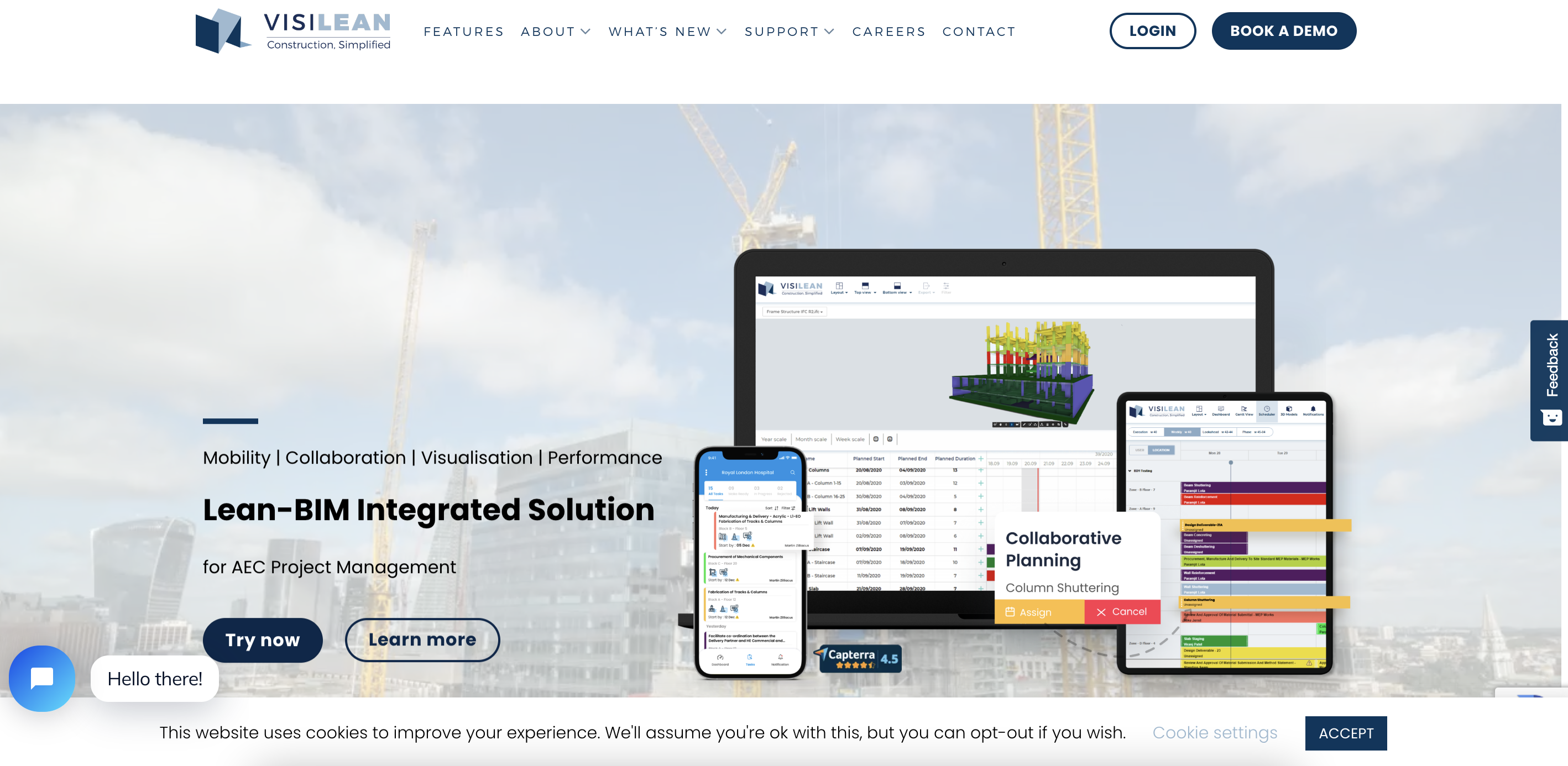 VisiLean is a cloud-based construction management software that makes real-time management and synchronisation between teams, projects and data easier. This integrated platform streamlines the processes involved in construction including designing, decision-making, and execution to optimise the project across multiple aspects.
Key features
Lean-BIM integrated solution.

Real-time mobile app.

Digital task management.

Automated dashboards.

4D visualisations.

Compatible with a range of scheduling platforms – P6, MSP, Asta, Excel, etc.
Pros
Allows dynamic planning and team collaboration

Integrates with Lean-BIM

Allows performance reviews and dynamic reporting

Offers a free trial
Cons
Does not have any feature to link the program to a highlighted map.

Cannot be used offline. So in areas of zero connectivity, VisiLean cannot be used to update information.

The web version of VisiLean was confusing and difficult to navigate for first-time users.
Pricing
VisiLean costs start from $650 per month.VisiLean allows an unlimited number of users to be added so, their pricing is based on the project duration, scale and valuation. VisiLean also allows enterprise-level pricing for organisations looking to manage multiple projects.
VisiLean is best for:
Enterprise businesses.
Conclusion: capabilities to look for in construction scheduling software
To summarise, here are the essential features to look out for while evaluating construction scheduling software:
Baseline, critical path, auto-schedule adjustment, and dependencies.

Centralised system.

Cloud-based with mobile access.

Real-time project controls.

Integrations with popular scheduling software.

Built-in document management and file sharing

Building sequences.
Sablono was created to meet the above criteria and so much more. Created to help simplify even the most complex construction projects, Sablono scales with you and brings greater clarity and precision on-site. Book a personalised demo to learn more.