Construction Software
Buyer's guide to Quality Construction Software Solutions
Quality construction software ensures consistently good quality project outcomes. Here's the best construction quality management software on the market...
---
With the Building Safety Bill putting tighter requirements on the buildings we create, quality is something that the whole industry has to take greater accountability around (Note: you can read more about how to improve quality on construction projects here). Quality construction software can provide a simple way to ensure consistently good quality project outcomes while maintaining the crucial golden thread - but it can be difficult to know what to look for.
We've found that some of the best construction quality management systems include the following features:
Key features to look for in construction quality management software:
Data Management
While looking for quality management software to handle construction projects, data management features are vital, preferably with limitless storage. Look for a system that will allow you to upload quality document files, photographs, and recordings and securely save them. Search engine functionality is a bonus - this makes finding key information as simple as inputting the relevant keywords. With data management functionality, you can stay organised and make sure you have the most recent quality documents with records and pictures compiled to make it easy to conduct quality audits.
(Pro tip: Always choose a data management system that has a good search engine attached. Also, make sure you have multi-level access so you can customise who gets access to what.)
Sablono has an in-built data-management and quality control record repository.
Quality Communication Workflow
By automatically communicating recorded concerns with the appropriate project stakeholders, a quality management software can help you ensure that everyone who needs to understand the state of your project is in the loop. Centrally recording quality issues that are supported with images, comments and further escalation routes can also help give a clear picture of the nature of quality issues that need to be resolved.
A system that provides access to real-time information to facilitate effective communication and remove blockers is the way to go. Look for a solution that supports mobile workflows that can be used across preconstruction workflow, on the field and in the boardroom. Opting for a cloud-based solution that can be used in even the most remote environments is also highly recommended to ensure that the flow of information across your project is never interrupted.
(Pro tip: Communication is key in construction quality control. You need to enable everyone working on the project to communicate concerns to the stakeholders quickly to prevent delays. This is why you should choose a QMS that allows you to both record quality data and automatically share this information for further accountability.)
Sablono helps simplify project communication through a single centralised system that automatically syncs in real time so that everyone can access updates made by other members of the team.
Root cause analysis
Look for a solution that not only allows you to spot quality issues but also helps you to understand why these issues happen in the first place. Root cause analysis functionality will enable you to get to the source of quality issues. Is it a particular material that's problematic? Maybe a certain way of carrying out the work leads to a higher rate of issues. Or it could be that a particular subcontractor produces higher rates of defects in their work than average? With root cause analysis, you can gain the insights you need to move forward and prevent issues from arising again.
Sablono includes root cause analysis and the ability to create standardised sequences so that you can prevent making the same quality mistakes and easily scale best-practice techniques across your project.
Progress Tracking
Construction progress tracking can help take our quality control to the next level. Utilising visual dashboards, you can establish milestones and assignment due dates; dive into daily, weekly, or monthly performance reports and understand how the project is progressing as a whole. Choose a quality construction software that enables you to track details like assigned tasks, finished or unfinished work, document revisions, and any plan modifications.
(Pro tip: Always choose software that, offers at least five different capabilities that are all interconnected. For instance, progress tracking should be linked with financial reports, budget tracking, quality control and wider construction project management capabilities.
Sablono allows you to track your projects accurately and identify potential areas of concern to reduce delays and hold-ups.
Automatic Deficiency Warnings and Exception Reports
It's important to choose a construction quality software solution that will automatically flag any defect alerts and exception updates. For example, work that fails quality checks will automatically notify project managers via email or message alerts. Similarly, damaged or faulty materials can easily be shared to prevent delays.
(Pro tip: A construction quality software solution that provides a digital audit trail can help improve transparency across all parties working on a project and offer protection if claims are made later down the line.)
Sablono has a trust-worthy quality management document trail, as well as QA checklists
Where Can You Find These Features?
Okay, so you know what to look for. Now where to look for these? We have the answers. The following is a list of the top 5 quality construction software solutions…
1. Sablono
Sablono is so much more than a construction quality management software. Created to streamline the entire construction execution phase, Sablono combines all aspects of quality, time and cost to help you build with confidence. With Sablono, trades no longer have to rely on printing paper QAs and communicating through paperwork and email which has traditionally led to errors and mismatched data.
Sablono digitises manual quality processes like manually checking progress, writing notes, manually checking QA work, schedules, charts; and coordinating trades. It provides a fully digital quality management system that works to streamline all quality-related concerns within a single platform.
Digital QA checklists ensure tasks are completed right first time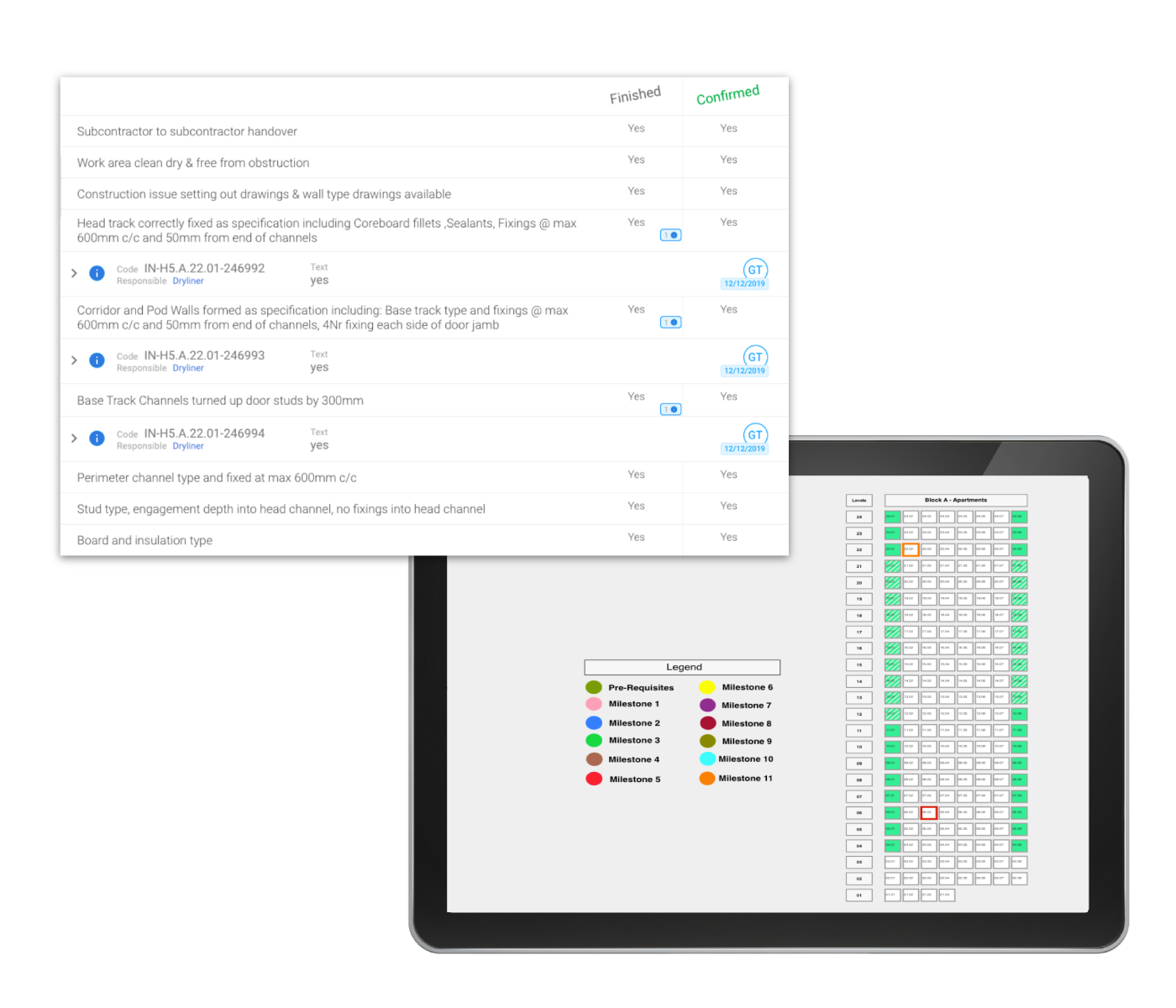 In construction projects, it's common for trades to sign off a project with key criteria missing and without evidence that the job has been completed up to standard. With Sablono, digital QAs are directly linked to units. Before a task can be signed off, trades first have to fill out the relevant information and include the corresponding picture as evidence. This gives reliable evidence that all elements of the project have been completed to a high standard.
Stay compliant with the latest safety regulations
Sablono also gives you complete control over your construction quality workflows. You can tailor anything you need into the system to match the specific requirements. Add new checksheet questions, remove old ones, receive notifications and alters to flag any on-site issues and ensure that you're always on top of the latest industry standards.
Birds-eye view of all aspects of your project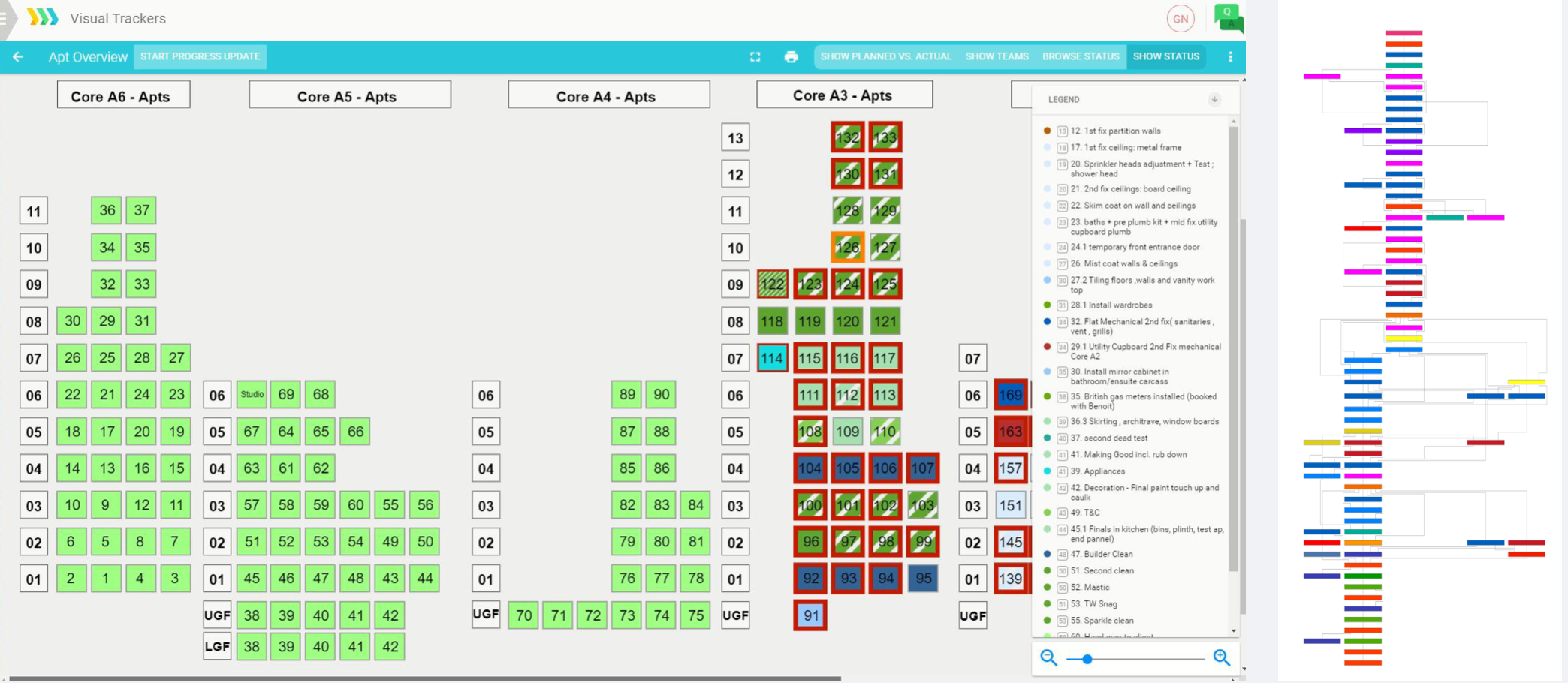 Sablono keeps you in the look with what's happening on your project without you having to go on-site. It gives you access to valuable quality-related data like which tasks have issues that need addressing, which activities have the highest rejection rate and which tasks we able to be completed right first time. All of this data means that quality issues no longer go unnoticed so you can remain confident that you always know what issues need to be fixed.
One version of the truth with the golden thread built-in
Tired of trades reporting inaccurate information? Sablono provides a single centralised system that gives one version of the truth so that everyone knows where a project stands.
It creates a fully accountable, connected digital audit trail of everything that happens on-site (and off-site in the case of pre-fabrication). This ensures that the golden thread of information is embedded into every part of your project. You can also access this information at any time if needed for claims or disputes which brings greater peace of mind and protection for all parties involved.
Integrated construction quality control and quality assurance
Thanks to the unique combination of progress and quality on one central platform, with Sablono you can analyse the implications of defects and hold-ups in your process instantly. Analyse sign-offs, ITPs, defects, and hold-ups. Gain insights into root causes for recurring quality problems, analyse lead times for resolving defects and sign-offs and avoid making the same mistakes moving forward.
Standardise workflows to scale best-practice
Get everyone on a project carrying out tasks and reporting things in a way that you know works best. Create clear quality standards. Have complete control over the framework and structure - ask trades the same questions, and review their work in the same manner. Standardise processes across the project to prevent mistakes and streamline project workflows. Over time collect data and insights around the best practices and expected timing for projects to be delivered based on past work.
Remove communication barriers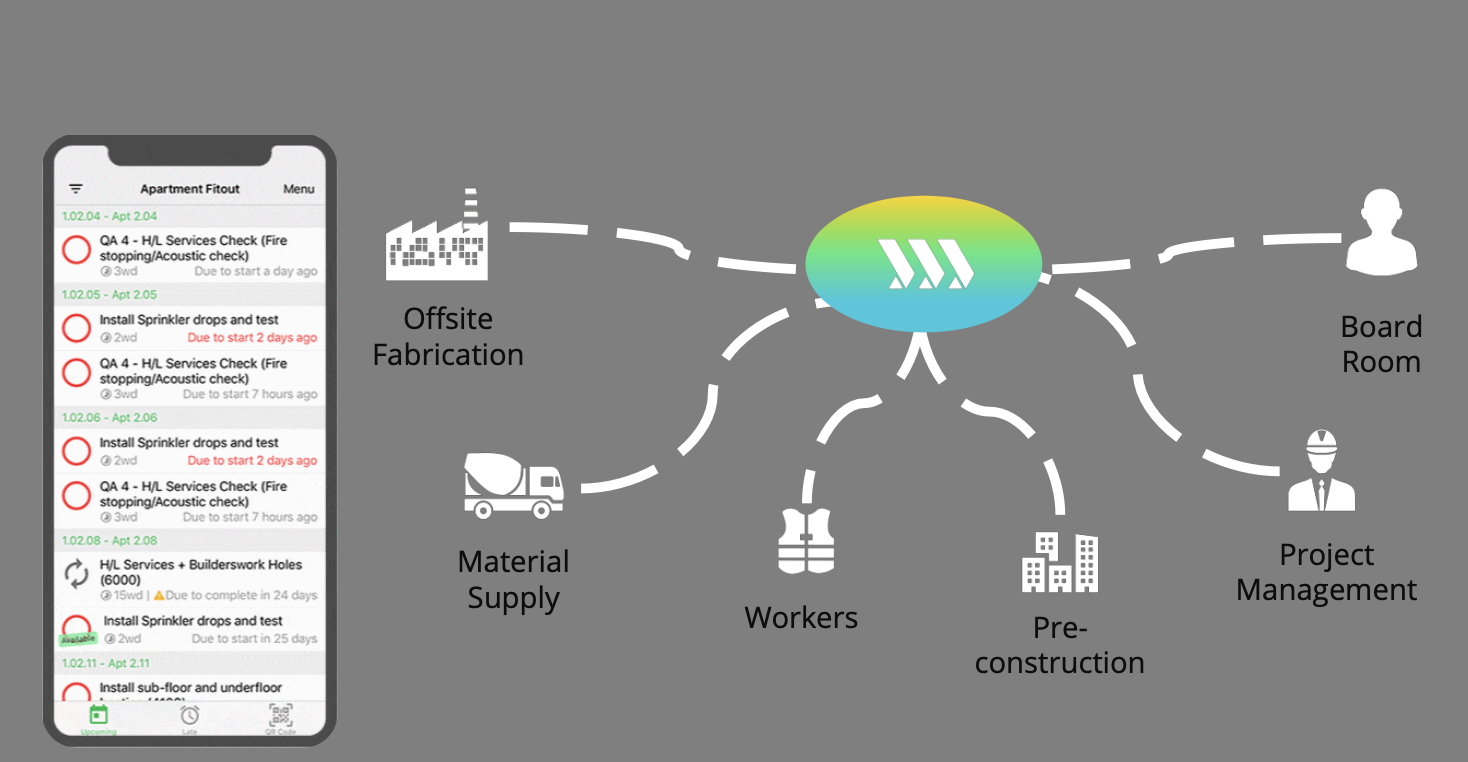 All quality issues can be reported on the Sablono platform. Trades can report obstructions, blockers and safety issues within a few clicks using the mobile app. Project managers receive automatic notifications and can address concerns immediately to prevent any delays. Here's an example of a construction quality control workflow within the Sablono platform:
Project managers attach QA checklists to activities.
Trades complete QA checklists, attach notes, images of work completed and report any construction issues.
Project managers confirm or reject activities based on the QA checklists result.
Note: Sablono allows you to assign quality workflows to an unlimited number of teams.


Things that set Sablono apart:
So much more than construction quality assurance software
Sablono scales with you. Want to improve the quality of your projects? Sablono has you covered. Want to track your progress to ensure you're set to meet deadlines? No problem. Or maybe you want to manage trades and activities more efficiently. Sablono is a true platform that you can use to meet all your construction execution needs.
Granular insights in real-time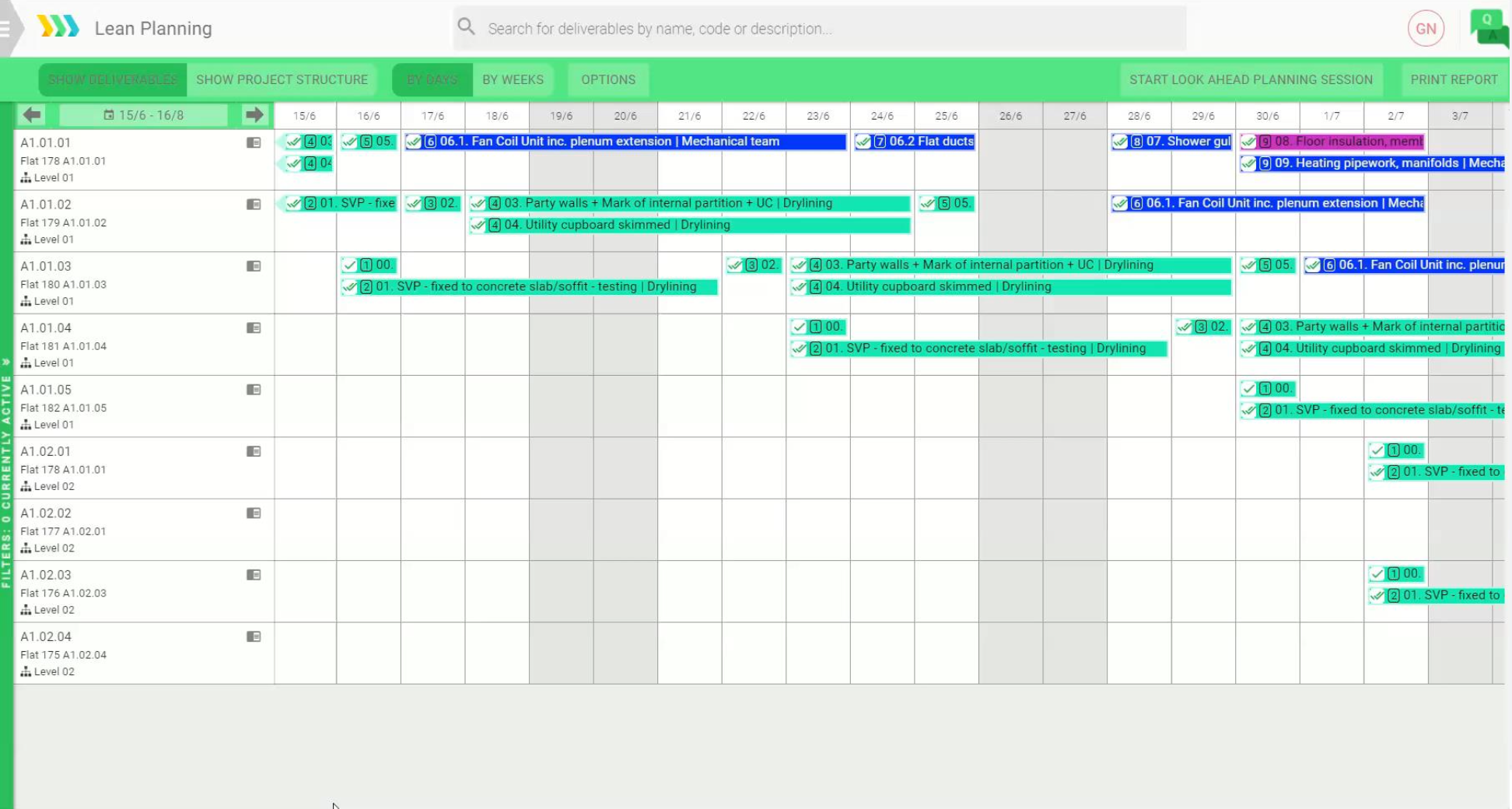 Most construction quality software tools rely on snapshot data that lacks both the sharing of information in real-time and the ability to foster true accountability and collaboration on-site. Sablono is different.
It provides reliable real-time project information at the most granular level of detail. Semi-automated workflows based on a fully connected digital process actively inform and connect everyone on-site to provide instant access to information. No data processing time needed. No more guessing "percentage complete" values. Sablono provides structured information that makes everything clear.
Fosters collaboration and project ownership
With Sablono, ownership is no longer left down to the planner - everyone is a project owner responsible for taking accountability for their work. Subcontractors use the platform to report progress, flag issues, submit QA assessments and more.
Fully accountable digital audit trail
Sablono helps you to understand the chain of events that go into completing a project - not just a series of 'snapshots'. It provides insights into invaluable data such as which subcontractor performed the work at what point in time? Was it signed off? If so, by whom? This creates a fully accountable digital audit trail to ensure the golden thread of information.
Note: Ready to discover how Sablono can help you with your construction quality control? Schedule a demo here and we'll show you how it can help add value to your next project.
Other construction quality control software
2. Procore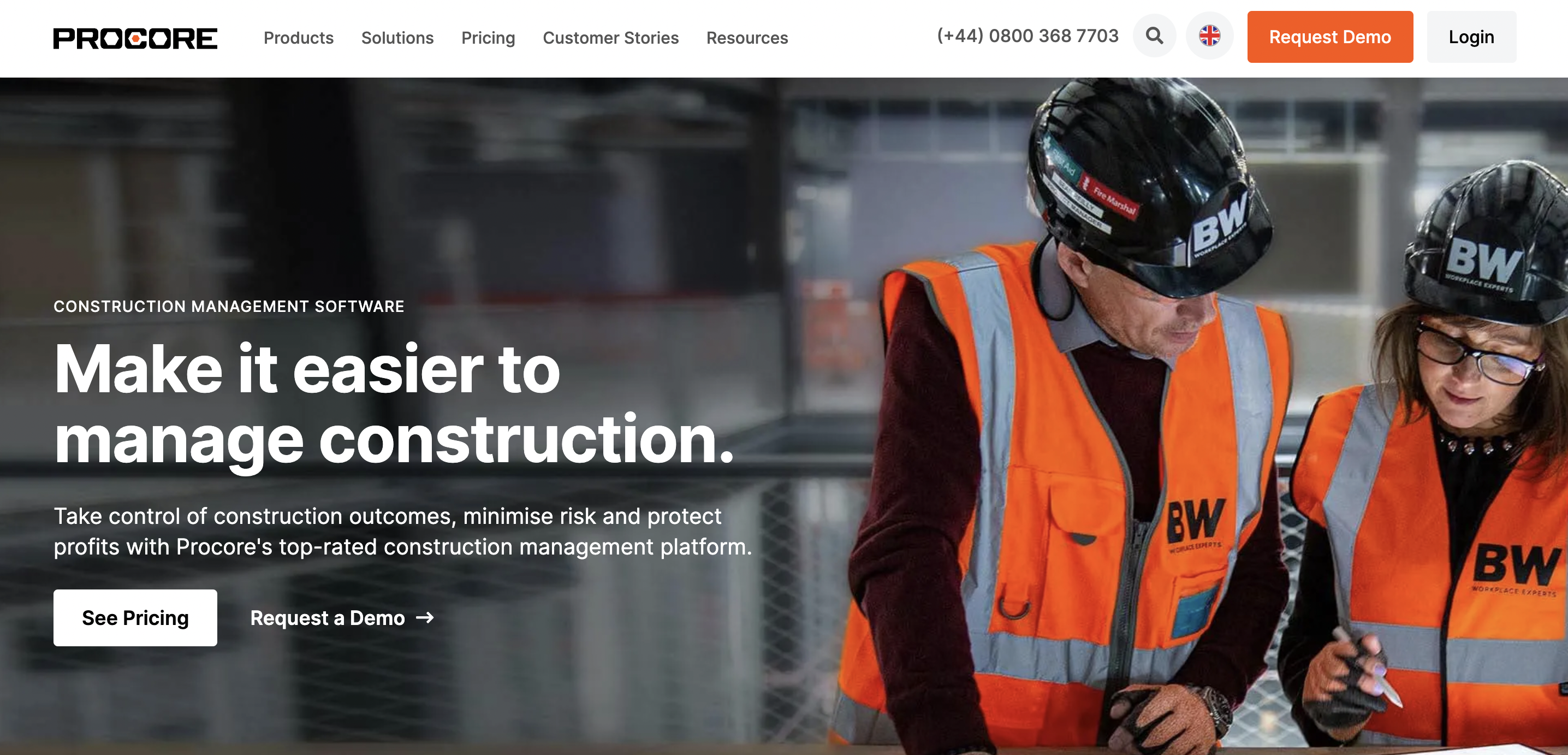 Procore is a popular construction site quality and safety management software. Purpose-built for the field, it allows you to understand, predict and correct quality issues before they become a problem. With correct implementation, many have reported that it has helped them boost efficiency on their projects.
Key benefits include:
Built-in safety management.
Dashboards communicate site happenings in an easily digestible way.
Accountability through necessary safety documentation, references and records all in one place.
Insights that help you understand the root cause of safety issues.
One thing to keep in mind is that scheduling is not an integrated feature in Procore and therefore requires additional software to provide this functionality. This means it may be difficult to integrate quality control into your wider work schedule.
3. FTQ360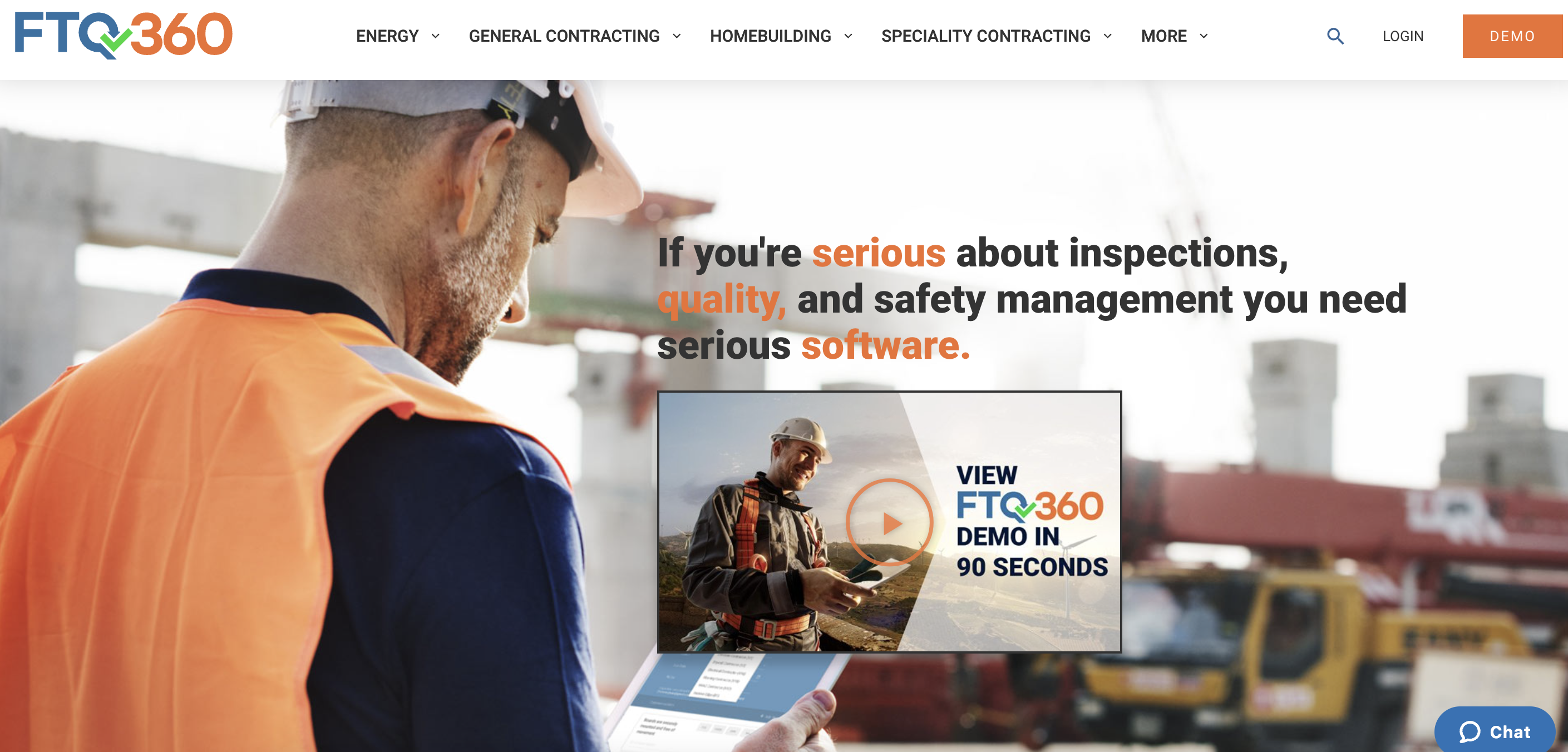 FTQ360 is a quality control software for the construction industry that is focused on helping the industry deliver safer, higher-quality projects. It helps you to streamline your construction quality management workflow by removing unnecessary steps and automating key tasks
Some of the key benefits include the following:
Ability to standardise inspections for faster, better outcomes.
Notifications are automatically sent to subcontractors including reminders on late items and reported quality issues.
Ready to use library of quality assurance checklists.
Ability to manage all quality issues in a single app.
Remote access for trades on-site.
FTQ is a great all-in-one construction quality software solution if quality is a core concern on your projects. However, as it specialises in solely streamlining quality workflows, if you want an option that will allow you to address other needs aside from quality as you scale, this is probably not the best option for you.
4. Novade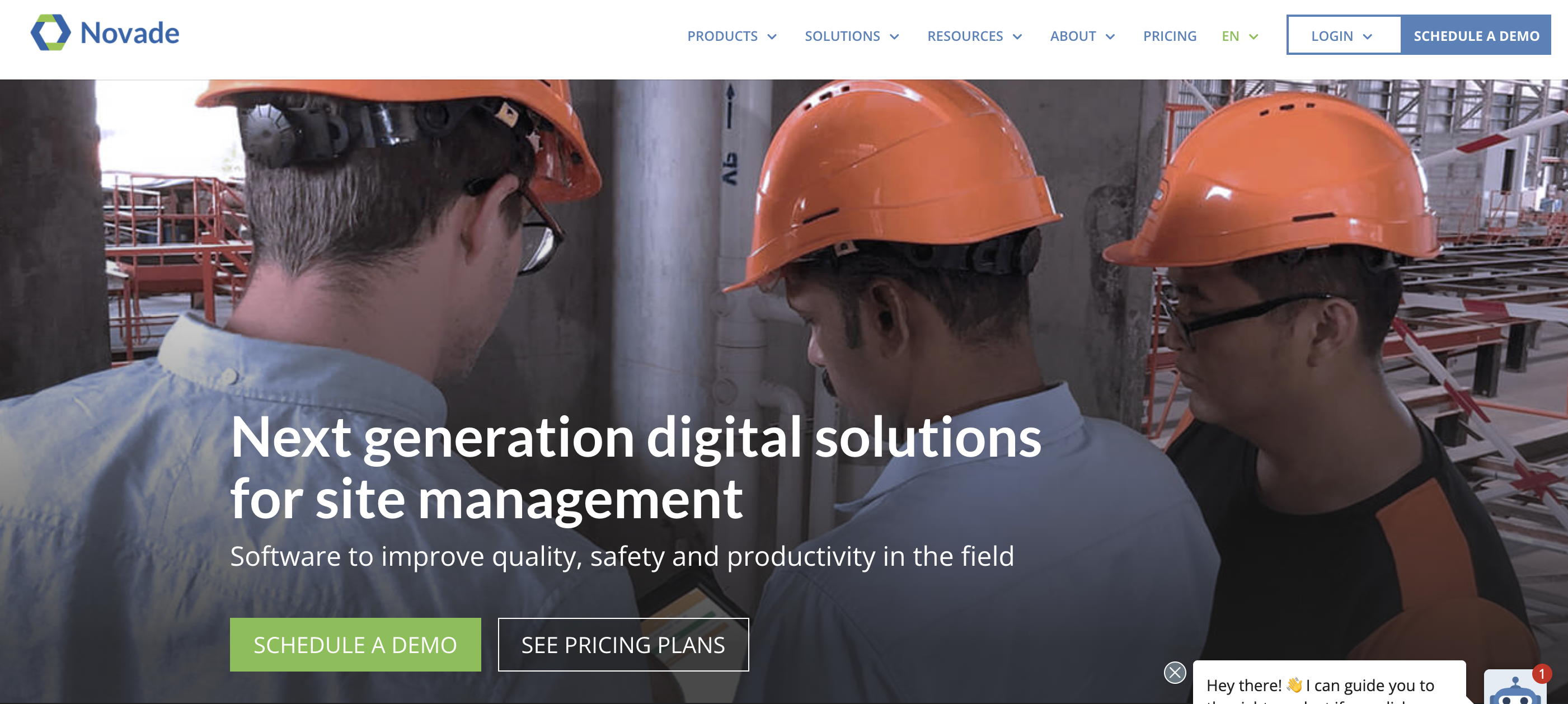 Novade is a smart digital solution for construction projects and includes a construction quality management module. It's focused on helping you to improve safety, quality and productivity on projects through quality management workflows that allow you to create, capture, share and analyse key construction quality data. Some of the key benefits include:
Predict issues early and mitigate rework.
Enforce Quality Assurance processes.
Close out your punch list and snag list quickly.
Attain and retain your compliance with quality specifications.
Fully digital quality control workflow.
Add photos, annotations and 3D models to easily display quality issues.



5. Autodesk Construction Cloud
Autodesk Construction Cloud is a popular construction QA software that provides quality management capabilities from the design phase all the way to handover. The system provides visibility on quality concerns so that you can proactively tackle issues before they progress into something bigger.
Some key benefits include:
Cloud-based to ensure that issues can be reported from anywhere.
Automated clash detection to encourage everyone on-site to check their work.
Centralised document management.
Quality checksheets to help standardise quality control.
User-friendly interface and caters to a variety of building specialisations.
Built-in project management system.
Autodesk Construction Cloud is an overall great solution that benefits from more than just quality management, however, one key drawback is that many of the tools within the Autodesk suite of solutions are not well integrated which means that you may find yourself loading several tools individually in order to get value across multiple different use-cases.
On top of this, it is not the cheapest solution, so ensure you have the budget to be able to scale your subscription as your number of users increases.
Conclusion: The best construction quality management software
Finding a good quality construction software solution comes down to so much more than just quality management capabilities. Improving quality on projects isn't about ticking boxes, it's about fundamentally transforming broken processes that lead to quality issues in the first place. The best quality construction software solutions will promote:
Transparency. It needs to be able to be easily used by all project stakeholders to ensure quality issues can be reported, viewed and reviewed across the project anywhere at any time.
Ownership. Quality issues can be avoided when everyone on a project is empowered to take ownership of their work. A good construction quality control software will ensure that accountability for quality control is no longer just left to the planner.
Standardisation. There's no point in resolving quality issues only to continue to make the same costly mistakes over and over again. Standardised quality workflows help to scale best-practice across your projects.
Scalability. Construction quality control is an important issue that needs to be managed on projects, but once you find a system that works for your projects, the reality will hit that there are so many other requirements that you'll need your technology vendor to satisfy. The best quality construction software will also provide these other capabilities that are needed on-site like project management, task management, cost management, planning and scheduling, reporting and more.
Sablono does all of the above and so much more. It breaks down the hundreds of thousands of activities that make up a project into individual tasks and works to streamline and replace broken processes with more efficient and collaborative ways of working. Want to learn why it's the best quality construction software? Get a personalised demo here.